Little Athletics For Kids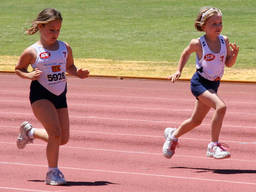 Introduce your kids to sports by encouraging them to join Little Athletics!
Little Athletics is one of the activities for kids that originated in Australia. It introduces kids aged 5 to 15 to sports through fun athletics events that cater to all kids who are too young for senior athletics. The motto of Little Athletics is ?Family, Fun, and Fitness.? There is a Little Athletics club for every localised region where a weekly competition takes place. The athletes and teams then progress to state competition for championships as determined by the state association. The first Little Athletics event was held in October 1964 at Landy Field. Yearly, over 95,000 kids participate in Little Athletics.
Little Athletics involve the whole family by focusing on family-oriented activities. Parents can also volunteer to be part of the helpers so they can look out for their kids while they are training. They also get to help in managing events and keeping the records.
A video of Little Athletics For Kids
Little Athletics centres offer fun and educational training programs that will help your kids develop athletic skills and other skills that they can apply in every aspect of their lives.
Information on Little Athletics For Kids
Is Little Athletics for your kids?
Little Athletics was based on track and field athletics and includes events such as running, jumping, throwing, and walking modified to suit the age and skill of the kids. It is a fun and safe environment for your kids to get introduced to sports. It is also a great way for kids to become physically fit and active, and to encourage a healthy lifestyle. It is designed to improve gross motor skills (for those who are under 6) and social skills. Among the countless benefits of Little Athletics is the development of the following skills:
Physical Abilities
Learning sports and being physically active helps develop sports skills like strength, balance, and coordination.
Fitness
Being physically active also means having a healthy mind and body.
Ambition
Preparing for a competition will give kids a goal and something to look forward to. They will learn practicing hard and perseverance is needed in order to succeed.
Representation
Having the chance to represent their community in the Little Athletics competition will boost their self-confidence.
Socialisation
Joining a fun and healthy competition will teach your kids the values of teamwork, sportsmanship, fair play, and respect for each player.
Most of all, kids get to have fun and achieve their personal bests. For them to enjoy Little Athletics, they must have a positive and enthusiastic attitude, determination, and self-motivation. Some kids might be hesitant to try it at first, but as time goes by, they will get the hang of it, and will eventually develop all those aptitudes. You can also encourage them by accompanying them to watch an actual Little Athletics competition. Being in the audience is exciting. Some kids may not be really into sports. Try to find out their interests by getting them to try different things. What is important is that they have their parents? support.
If your kids are under 5 years old, and cannot join the Little Athletics club yet, there are also other athletics clubs around Australia that cater to younger ones that aim to introduce them to basic sports and to develop their gross motor skills. To get started, browse the ActiveActivities Directory to find a Little Athletics club near you. We also provide comprehensive information on all related kids activities and clubs. You can also find many helpful tips regarding kids activities.
Little Athletics is a good foundation into other sports because it teaches the basic sports skills. Developing the potential in every kid at a young age can inspire them to have a passion for sports. Who knows, maybe someday they can also become Olympians; from Little Athletes to World Champions!
Articles related to your search: