Drama classes & lessons for kids in Melbourne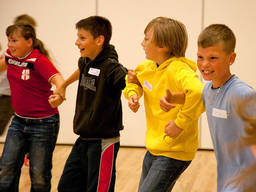 Drama classes & lessons for kids in Melbourne can be your kids' gateway to learn and to live more in the city. Being the natural actors that our kids are, drama classes & lessons for kids are great ways for them to express themselves and discover their strengths and weaknesses.
Category: Performing Arts
Approximate age to start (name of activity): 2
Approximate price: Average price of $385. This activity comprises of: coaching, training, workshop for kids
Best period of the year: Vacations or school holidays
Most appropriate region: Melbourne.
School holiday programs available: YES
A video of Drama classes & lessons for kids in Melbourne
Check out this video of a drama class in Melbourne!
Information on Drama classes & lessons for kids in Melbourne
Why is Melbourne a great place for your kids to take drama classes?
Melbourne's history stems from a rich and diverse culture from Europe and Asia, and it is the largest Greek City outside Greece. You must be wondering why it is important to mention these facts. Drama originated from Athenians, and having a big Greek community must be one of the reasons how the thriving and vibrant city of Melbourne developed into a prominent scene for music and arts.
Melburnians are extremely talented and adept to both classical and contemporary cultures. Just by touring around Melbourne, it's not hard to assume that the community highly values arts, music, dance, drama, and leisure. The famous Victorian Arts Centre is a towering proof of Melbourne's music, dance, and drama scene. It is also important to mention the Performing Arts Museum which is one of the world's best theatre museums.
Drama classes & lessons are great for children to discover a rich spectrum of life and to exhaust all their extra energy. Most parents would agree that our kids are born with talents that seem too close to the ones we see on TV. Yes, kids are natural actors! Most often, we would see them crying, laughing, and looking like the sweetest kids that they are. Whatever their expression is, we just love to see and take pictures of them. It will never be hard for them to cope with various activities in acting workshops.
Drama classes & lessons in Melbourne have fun-filled activities, such as acting classes, singing classes, and other activities as a form of art for children. Just like its advanced versions, drama classes & lessons for kids in Melbourne always equate to self-expression. Among kids activities, drama classes & lessons do not involve safety issues or strenuous physical activities. ActiveActivities directory is a great source to find drama classes & lessons for kids in Melbourne. You can also check it out to find drama classes in Victoria or other children acting classes in Australia.
Get your kids to enrol in drama classes & lessons in Melbourne!
Drama classes & lessons are available for toddlers and children who want to discover their inner artists. These activities are great for children to learn how to deliver themselves in the most ingenuous way. Activities for kids, such as children's acting class, can help them develop their confidence, self-esteem, and speech aside from self-expression.
You don't really need to invest on anything else other than choosing the best schools or workshops which offer drama classes & lessons for kids in Melbourne. Clothes, costumes, or props are sometimes provided. You will only need to prepare these items when there are recitals or plays which really require a full-scale performance that comes with props and costumes. Of course, you would always want your kids looking like little professionals on stage.
Drama classes & lessons can help your kids to better express their selves without asking help from other people. This is a great way for them to develop their emotions and self-expression. Learning how to deliver one's self is probably one of the most important things every individual must learn. Performing arts schools may be the backbone of your kids' success in whatever field they choose in the future. Aside from confidence, self-consciousness, and grooming, your kids will surely be looking like real professionals when they grow up. There are prominent centres for the arts in Melbourne. Your kids's can get the opportunity to perform on renowned stages where many famous actors have performed. Check out ActiveActivities directory to find drama workshops in Melbourne.
Let your kids channel their inner artists and express your love and support for their acting skills. Who knows? They just might be the movie stars of their generation.
Articles related to your search: