Drama classes & lessons for kids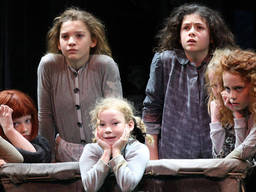 Kids love attention as much as they love being creative. To keep them busy and entertained, we get them engaged in activities for kids that combines both being active and being creative; and also in a way that their peers and the adults will appreciate them. Why not let them take their chances on the performing arts? Drama classes and lessons for kids can help them discover their full potential!
A video of Drama classes & lessons for kids
A basic drama class for kids. Help your children discover his or her inner acting fire!
Information on Drama classes and lessons for kids
Are drama classes and lessons a great activity for your kids?
If your children are not that enthusiastic about sports, you can still get them to be active and develop important skills through other alternatives. An example would be drama classes and lessons for kids. Theatre for kids is where all kinds of children, shy or outgoing, can learn and develop at their own pace, in a supportive and positive environment. Through drama classes and lessons, outgoing kids can unleash their full potential being natural performers, while the shy ones can find a creative outlet for their talents.
Kids, being natural explorers, love imaginative play like playing dress up and role playing. Enrolling them to drama classes and lessons will give them opportunities to enjoy these kids activities while learning and gaining benefits at the same time. The skills that they develop through the classes and lessons are not just for the stage, but are life skills as well.
Poise
Self-confidence
Self-awareness
Self-expression
Imagination and creativity
Social skills
Communication skills
Most drama schools for kids in Australia accept toddlers and children of all ages, usually starting at four years old. The ideal teacher-student ratio for acting classes for kids is fifteen students per teacher, to provide each student with full attention and support. Drama lessons usually take place after school, or during the school holidays. You can check our ActiveActivities directory for available drama classes and lessons for kids near your area.
Drama classes and lessons are specialised in drama schools for kids. But if you want the full theatre experience for them, there are also performing art schools for kids that offer not only drama classes, but also singing classes and dancing classes.
You may be surprised of what these classes and lessons can do for your kids. Encourage creative expression! Let your kids experience the positive effects that drama classes and lessons can offer!
Articles related to your search: