Cultural Dancing Classes & Lessons for kids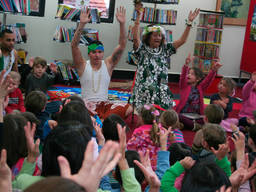 Do your kids like dancing? Most children today are into modern dancing like hip hop and street dance. Through this activity, kids can gain a lot of benefits in all aspects of their wellbeing. Why not take it to the next level by getting them to learn cultural dancing for kids? Exploring the world of dance through cultural dancing can help them gain awareness of the different cultures in the world. Enrol your kids to cultural dancing classes and lessons!
Category: Performing Arts
Approximate age to start Cultural Dancing Classes and Lessons: 2 years old
Approximate price: $15 to $100
Gear/equipment needed and approximate price range: costume: around $35, shoes: around $30
This activity comprises of: Dancing
Best period of the year: Year round
School holiday programs available: YES
A video of Cultural Dancing Classes & Lessons for kids
Bollywood is a popular cultural dance in India. Enrol your kids to a Bollywood dance school in Australia and get her to wear colourful costumes, and have flexible body movements like the girls in the video.
Information on Cultural dancing classes and lessons for kids
Are cultural dancing classes and lessons great for your kids?
Children nowadays are attracted to everything in and new – the latest gadgets, newest video games, even the most popular music and dance craze. With all of these latest fads, there seem to be hardly any kids activities where kids can learn about their roots, their own culture and the other nationalities, too. Cultural lessons for kids these days are only acquired in school and in institutions like galleries and museums. Bring them back to basics by encouraging them to get into cultural dancing for kids. Cultural dancing classes and lessons offers a lot of benefits that other dancing classes and lessons can provide, plus a lot more.
Helps develop physical abilities and coordination
Dancing as a form of exercise
Serves as an excellent outlet for active toddlers
Introduces the concept of diversity, and exposes children to different traditional music and dances around the world
Fosters an appreciation for arts and music
Learning about the different cultures can tell us a lot about the lifestyle of different people from different parts of the globe. This way, we can understand them better. They can start by learning the aboriginal culture. Indigenous Australian dance is used by the aborigines to tell a story, and to perform a ritual or a ceremony. Other interesting cultural dances that your kids can learn are Asian dances (like Bollywood dancing) and South American dances (like salsa dancing).
Our ActiveActivities directory has a comprehensive list of available cultural dancing classes and lessons around Australia that your kids can join. The important thing that you should consider when looking for the right classes and lessons for your children is if they are interested in learning that particular dance. It is also important that there is round the clock adult supervision, and that the instructors give their full attention to their students. For ultimate enjoyment of the experience, the cultural activities for children should be done in a friendly and supportive environment, with fun activities for kids incorporated into the lesson.
Try something new by getting acquainted with the old. Your kids will surely love the colourful costumes!