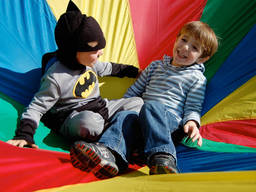 Two kids enjoying themselves in a superhero party
Superheroes rose to popularity in the 1940s after the debut of the first Superman comics. Since then, superheroes have become steady figures in pop culture and in mainstream media. Comic books, graphic novels, movies, and television shows featuring many types of superhero characters are now widespread all over the globe. A superhero party theme will surely brighten up you kids' party and make it more special, so it's a fantastic idea to consider for your child's next party. Let your kids don a costume and save the world!
Category: Parties
Approximate age to start: Any Age
Approximate price: Varies
Gear/equipment needed and approximate price range: Party supplies, party decorations
This activity comprises of: Playing party games, wearing costumes, decorating
Best period of the year: Year-Round
School holiday programs available: NO
A video of Superhero party theme
A clip of a Spider-Man show in a superhero theme party.
Information on Superhero Party Theme
Is a superhero party theme for your kid?
If your kids party is around the corner, try considering a superhero party theme. The superhero party theme is popular among boys, though girls might also want to dress up as famous female superheroes like Phoenix, Catwoman and Storm. Ask your child about his or her favourite superhero character and you can plan your party from there.
Some advantages of choosing a superhero theme for your kid's party includes:
Exercise your kids imagination
Wearing a costume and letting your kids play as their favourite superhero can exercise your kids' imagination. Let your kids imagine that they are really superheroes and help them act according to their character.
Superhero party games are more exciting
Parties aren't complete without party games! Play fun superhero-themed kids activities like Catch the Villain. Catch the Villain works like the classic game of piñata except the kids are going to strike villain piñatas instead of regular piñatas. Order these themed-piñatas online and make your kids' superhero theme party even more enjoyable. A piñata that's designed to look like Joker, Batman's nemesis, costs $15 online.
Appropriate activities for all ages
Superhero party themes offer exciting and engaging activities for kids of all ages. Toddlers can spend their time in a superhero themed arts and crafts station while older kids can join action-packed party games.
Organise a superhero party for your kid!
In order to make your superhero party theme more successful, you need to shop for the appropriate party decorations. If you can't find great supplies in your local shopping centre, order the things you need online. Plates, balloons, giveaways, table decorations and other party supplies featuring popular Marvel superheroes like Spider-Man and Iron Man are easy to find.
You can't have a great superhero party without remarkable kids party costumes. Be creative! If your daughter wants to dress up as a male superhero, you make her wear a tutu on top of the basic costume in order to make her look more feminine. You can even get your kids to dress up as Captain Australia, the famous "real life Superhero" from Queensland.
Birthdays aren't complete without birthday party cakes! Look for bakeshops that can make the perfect superhero themed birthday cake. Some bakeshops can take a photo of your child in a superhero costume and turn the photo into the cake's design.
A great superhero theme party idea is to serve healthy food like fruits and vegetables and label them with super power enhancing qualities. For example, you can leave some carrot sticks on the table and label them with the words, "Improves Laser Vision!"
You can also hire professionals who can dress up as superheroes and entertain your children and his or her friends. Check out the ActiveActivities Directory for more information on businesses that can help make your kids' superhero party theme better.
Put on your mask and let's play superhero today!