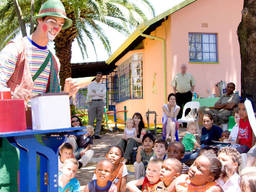 Magic clubs provide ways for magicians to come together and sharpen their craft. Australia was one of the first countries to have a magic club, with the establishment of the Australian Society of Magicians in 1907. Will your child be the next David Blaine?
Category: Entertainment, parties
Approximate age to start Magic Clubs: 5
Approximate price: $55/session; $150-$500 for shows
Gear/equipment needed and approximate price range: Magic wands ($4-$20), playing cards ($2-$20)
This activity comprises of: doing magic tricks, watching magic shows
Best period of the year: Year-Round
School holiday programs available: YES
A video of Magic clubs for kids
Hosts of a kid's show, Snap & Lyndi, visit the Australian Society of Magicians to watch them in action.
Information on Magic Clubs for kids
Are Magic Clubs For Your Kid(s)?
Learning magic make great Kids activities because it's fun and entertaining for children of all ages. Joining magic clubs can help your children perform magic better. Some magic clubs can be open for aspiring magicians, enthusiasts and seasoned performers, but other magic clubs are only open to people who specialize in particular types of magic.
Magic clubs provide many activities for kids that can surely help:
Learn magic tricks
Having friends to share tips and tricks with will surely help your child be a better performer
Build self-confidence
Performing in front of friends can help children be more confident when later performing in front of an audience
Get updates and discounts on magic workshops
Magic clubs usually hold magic workshops and members can usually get them for a special price
Get connections
Magic clubs promote its members to help them start their own careers as magicians. They can arrange performances in comedy clubs where your kids can do magic tricks.
Some magic clubs can be hired as kids' party entertainers for a small fee ($150-$500 depending on the length of the show). Make sure you look for magic clubs which do magic shows that are appropriate for the age of your kids. Toddlers can usually appreciate balloon tricks and magical storytelling shows, while older children might appreciate more sophisticated magic tricks like illusions.
The most popular magic clubs in Australia are the Australian Society of Magicians and the Australian Institute of Magic .
Get Your Kids to Start Joining Magic Clubs!
Your children can start joining magic clubs for kids starting age 5. Magic clubs are generally good for all kinds of children, especially those who love performing and being the centre of attention. Children can also attend magic workshops for a small fee ($55) in order to learn under great magicians with plenty of experience.
Here are some simple tricks for kids that they can learn:
Juggling
Balloon twisting
Card magic
Coin magic
Small illusions
You will usually need some props (magic hats, wands, cards, trick coins) which are available in magic stores and most of them are fairly inexpensive. Costumes for performances could cost more, though some magicians can just perform in casual clothes.
There are many magic clubs in Australia, like John Dudley's Magic Kids Club. To find one in your area, check the ActiveActivities Directory for more details.
Get your kids to join magic clubs and learn to enchant others now!
Articles related to your search: