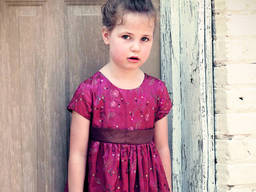 A pretty fancy dress with floral designs for a young girl.
Do your kids enjoy dressing up as a kid's activity? Let them stand out by creating a great fancy dress outfit to wear to their next party!
Fancy dress parties are popular among kids. Every kid's birthday party is more fun if they get to wear costumes like fairies or their favourite cartoon or superhero characters. It is because kids have a very active imagination and they always enjoy role-playing games and other imaginative kid's activities. There are many costume ideas to choose from so your kid's costume and party theme are different every year. Dress your kids with fancy dress at their next party!
A video of Fancy Dress For Kids
Fancy dress ideas for kids for any occasion. Some popular fancy dress costumes are superhero costumes, princess costumes, and pirate outfits.
information on Fancy Dress For Kids
Are fancy dresses for your kids?
Studies have shown that kids activities like role playing – including wearing costumes and fancy dresses - have a long term benefit. Here are some:
Dress your kids with flair at the next party fancy dress party!
If your kids like dressing up and role playing, make their next party a fancy dress party! ActiveActivities will provide you with some great kids birthday party ideas, and party themes that will surely make your kid's fancy dress party a hit.
A popular fancy dress party for girls is a Disney Princess party where they can wear pretty dresses while the boys can come as Princes or any Disney character they like. Other fancy dress party themes are masquerade and fairy themed parties. Put pretty decorations around your house like balloons and colourful displays. Let them help with the decorating so the kiddies start to learn how to organize their own party. Hire clowns, puppeteers, magicians, or maybe even face painters to make your kid's party more fun and memorable. You can browse our ActiveActivities Directory for more tips and resources on Fancy Dress for kids of all ages.
Let your kids be the coolest kids in town! Let them wear fancy dresses at the next party!
Creativity and Imagination
Letting them choose the outfit they want to wear can stimulate their imagination. You might discover your kid's potential in fashion design or even modelling!
Self-confidence
Knowing that they can wear anything they like shows them how unique and special they are in their own way. Freedom of expression through clothes gives them a sense of identity and boosts their self-confidence.
Socialisation
Attending fancy dress parties teaches kids how to socialise with others. Hosting their own fancy dress party teaches them how to be hospitable and accommodating.