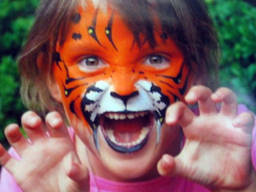 What's a children's party these days without face painting? Face painting(or face art) is an activity where a picture or design is drawn on a child's face using brightly coloured face makeup that washes off without any fuss. Face painting is a type of body art that probably had its origins in indigenous tribal rituals where members would paint their skin as part of their ceremonies. It's become a very popular kids' activity in Australia and often forms part of the entertainment at birthday parties or other festive occasions.
A video of Face Painting for Kids
Be a clown... a marauding pirate... or a wicked witch. With a little face paint and imagination, your transformation can be quick and easy. Sharon Neilson demonstrates how to paint eight different full-face designs: Princess, Devil, Clown, Pirate, Witch, Scarecrow, Alien Monster, and Superhero.
Information on Face Painting for Kids in Australia
Is face painting for your kid(s) and your family?
Face painting is a fun, creative activity that the majority of children will enjoy. It's one of the best party ideas and an excellent kids' activity to add to your list of potential school holiday activities. Some of the great things on face painting include:
It's cheap
It's fun
It's creative
It encourages imaginative play
It provides good bonding opportunities for parents and children
It is a way for kids to express their individuality
Face painting uses a special paint which should be safe for use on very young children, and this makes face painting a suitable activity for any age. Often kids under 3 find it difficult to sit still for very long so they would probably be best suited to very simple patterns or designs. Older children might enjoy having their face painted like their favourite animal or cartoon character.
Get ready to organise this entertaining activity for your kid(s)!
There are a couple of ways to arrange a face painting party. Some people choose to hire entertainers to set up a booth or a table to paint the kids faces, while others prefer to do it themselves.
Professional face painters can be found in our ActiveActivities Directory and usually charge around $100 an hour. The amount of time you need depends on the size of party. Often professional face painters can paint approximately 10 faces an hour.
Another option is to do your own face painting. If you want to do this it is important that the paint you choose is safe for use on skin. If you're not sure where to buy face paint, visit your local toy store or any party supplier, or search online.
When painting your child's face, there are a few things to remember:
Use good quality hypoallergenic paint that is made for face painting and can be easily washed off with a sponge and cold water
Always check beforehand with a small amount of paint on kids' faces to make sure they are not allergic
Use a sponge rather than a brush to cover larger surface areas
Wait for the first layer to dry before applying the next layer
Keep layers thin?do not use too much paint
For complicated designs, consider using a stencil
There are a number of places that teach face painting if you are looking to learn professional techniques or would like to practice different designs. Then you would be able to organise face painting parties whenever you want!