Parties and Party Activities for Kids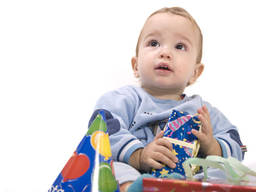 The kids' birthday party is a childhood institution.
Most of us have fond childhood memories of party food, decorations, games and cakes, but organising kids' parties is a bit more demanding than attending one!
A video of Parties and Party Activities for Kids
Planning activities a kids party can be difficult and stressful.
Information on Parties and Party Activities for Kids in Australia
What Kind of Kids' Parties and Party Activities Are Available?
Throwing a birthday party for your child is a great way to make them feel special.
The options for thess kinds of kids' activities are endless and include:
Simple backyard birthdays with food, games and a cake - great if you are on a budget, or if your child prefers to steer clear of the limelight. Jumping castles are also popular at backyard parties.
Themed kids' parties - ideas include superhero parties, pirate parties, princesses and dressing up as your favourite cartoon character. Your child can have fun making their own costumes and decorations to match the theme and even choosing some party music.
Hiring entertainers - an entertainer can take the form of a clown, magician, fairy or pirate and keep the kids amused for the duration of the festivities.
Craft parties - for creative kids, arts and craft parties can be held at home or at your local kids' art school. Kids can work on fun craft projects and have something to take home at the end.
Play centre venues - usually they take care of food and entertainment and you just need to bring a cake. Perfect if you're not keen on holding kids' parties at home.
Don't want to make things too complicated? If your child is shy or very young, a simple picnic at a local park or the beach can make for a lovely low key day with the minimum of hassle.
What's the Best Way to Organise Kids' Parties and Party Activities?
Overwhelmed at the thought of arranging a party? No matter what type of party you choose, there are a number of things you will need to organise:
Venue - indoor, outdoor, at home or a special venue; consider whether your chosen venue is suitable for the number of guests and type of entertainment.
Invitations - make sure to give your guests plenty of notice and a phone number on the invitation for them to RSVP to.
Food - for kids' parties, a few party snacks is all that's needed - they'll probably be too busy running around to sit down and eat. Don't forget the cake!
Take home party bags - these can be inexpensive and simple or elaborate; it's up to you.
The cost of kids' parties can vary greatly - from very minimal for a homemade cake and a few backyard party activities for kids to hundreds or even thousands of dollars if professional entertainers and party planners are involved.
Whatever your budget, with a bit of planning and creativity your child can have a fantastic and memorable day!
Articles related to your search: