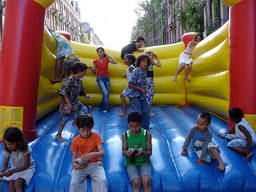 Kids parties are not complete without inflatables!
Help your kids create happy and lasting memories by giving them the best children's birthday party. Western Australia, especially its capital, Perth, has some great ideas, venues, and activities for kids that are perfect for kids parties. Kids parties in Perth, WA, are the best ever!
A video of Kids Parties in Perth
There are entertainment companies in Perth that provide excellent kids parties. This particular company in Perth offers disco and karaoke parties for kids!
Information on Kids Parties in Perth
Why kids parties in Perth are great activities for your kids?
Are your kids tired of ordinary kids parties at home? Add a twist to their party by making the party unique. Why not throw costume parties or themed parties with exciting kids activities and games? It is also more fun to have kids parties in a different venue. Kids entertainment in Perth includes venues that offer affordable party packages. Here are some birthday party venues in Perth, as well as some party services and hires. Have your kids consider these places for an unforgettable party of their life.
Playgrounds and Parks
If your kids feel like having just a simple barbeque party with a few of their friends, playgrounds and parks in Perth are ideal places. Jackadder Lake Reserve Woodlands, Rotary Park Wanneroo, Faulkner Park Belmont, and Landsdale Animal Farm, to name a few, have shaded picnic areas, barbeque areas, and playgrounds. They also offer complete facilities, including toilets.

Adventure World
Kids party reservations at Adventure World include birthday cakes, loot bags, burger combo, a party area, and of course, the amusement park's 30 thrilling rides and waterslides. Its features include the world-class Tunnel of Terror, and the most exhilarating rides in WA – FreeFall, The Rampage, and Power Surge. There are also rides for younger kids, including Kids Cove and Kids Splash Cove.

Perth Zoo
Do your kids want to party with the animals? Book a children's party in Perth Zoo! The Birthday Party Pack includes bags of lollies, bags of biscuits, juice drink, hot chips, and free rides on the carousel.

Entertainment Services
Kids parties in Perth and Australia are not complete with kids entertainment hires and services. Conny the Clown is the most in-demand birthday party entertainment in Perth. Conny the Clown Shows vary for little kids (from 0 to 4 years old) and older kids (4 years old and above). The shows may include face-painting, balloon animals, magic tricks, puppets, and of course, kids party games. Games and entertainment hires will make your party planning easier and stress-free.

Play Centres
There are play centres in Perth that serve as great venues for holding parties. If your kids are having themed parties, play centres are the perfect place. Having a sports themed party? Why not have it at the kids sports centre? Get them to dress up in different sports gear and incorporate games with fun and healthy kids activities, such as wall climbing and obstacle courses. Other play centres offer arts and crafts themed parties, softplay and more.
Other ideas that are popular among kids parties in Perth are inflatable castles, limousine parties, and slumber parties. You can look in our ActiveActivities Directory to find out the coolest places where you can book your kids parties as well as available party hires.
Your kid's birthday only comes once a year. Kids birthday party ideas in Perth are endless. Organise your kid's next birthday party there and you will never regret it!
Articles related to your search: