Birthday catering for kids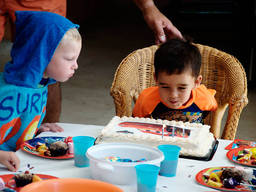 Planning for your child's birthday party doesn't have to be stressful. Busy parents tend to just leave all the birthday catering needs to catering services available all around Australia. Some parents like to take care of the birthday catering on their own to make it more personalised and special. Either way, you can never deny that other than the fun activities for kids, children look forward to yummy food during birthday parties. Have fun with all these birthday catering tips!
Category: Parties
Approximate age to start birthday catering for kids: Starting from the child's first birthday
Approximate price: $9 to $50
This activity comprises of: Cooking, baking, table setting, decoration
Best period of the year: Year round
School holiday programs available: NO
A video of Birthday catering for kids
Catering for your kid's birthday party? Here are some tips and yummy recipes that might help.
Information on birthday catering for kids
How to prepare birthday catering at your next kids parties?
Proper diet is important especially during the children's growing up years. But on their special day, some parents let their toddlers eat anything they want. But if you want to provide delightful and nutritious food for the kids, there are available recipes for birthday parties for kids where you can substitute unhealthy ingredients with healthy ones. Sugar free cupcake is a nice example of a nutritious birthday party recipe.
There are also catering services that provide birthday catering for kids with any special dietary needs. You can choose from their menu and packages the types of food your kids might like. That's what's good about birthday catering services. They have different themes available; and they can also customise the birthday menu according to your preference. They cater from birthday cakes to full meals and desserts. Some birthday catering services also provide other services like entertainment, party supplies and party decorations. Our ActiveActivities Directory has a list of available kids birthday catering specifically in Melbourne and Sydney, and all over Australia.
Choosing a theme for a kids birthday party can be easy, but choosing the kind of food to serve can be difficult. Kids are sometimes hard to please when it comes to food. Here are some tips for birthday catering for kids:
Prepare finger food instead of gourmet dishes.
It is best not to choose salty or spicy food.
Cut the sandwiches and cookies in different tiny shapes; and decorate the cupcakes to make them more fun.
It is also ideal to serve platters of fresh fruit and vegetable with yummy dips.
Drinks are essential at a children's party as long as they are not carbonated.
Serve attractive and colourful fruit juices.
Use disposable materials.
Food bars or food stations enables the kids to make their own meal choices.
Involving the children during food preparation is a great way for family bonding.
Together with food, the kids activities, games, entertainment, and the theme add to the birthday party fun. You can choose to hire mobile equipment as well as clowns and magicians for the entertainment. For the theme, costume parties are popular to kids – superheroes for boys, and princesses or fairies for girls. Check our ActiveActivities Directory for more birthday ideas.
All of these birthday catering tips and ideas can make your kid's birthday party unforgettable and fun. The celebrator and the guests will surely have a blast!