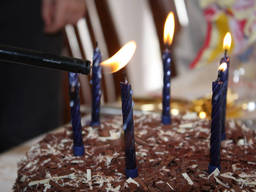 Dazzle your child at their next birthday with a spectacular birthday cake!

No birthday party is complete without a cake. Birthday cakes are an Australian tradition for people of all ages, particularly kids. With so many designs and themes available, why not branch out this year and try something a bit special?
A video of Birthday Cakes for Kids
Birthday cakes is an art. You will learn how to build a fairy castle for your kids' birthday! Some other cake decorations may be easier to do, but this one could be a terrific idea for a one in a lifetime birthday! The options are infinite!
Information on Birthday Cakes for Kids
Are birthday cakes for your kid(s)?
Are you planning a birthday party for your child?
Birthday cakes are often the highlight of kids' birthday celebrations and whether you decide to make your own or buy one already made, there are plenty of ideas for making it memorable, including:
Superhero cakes – does your child love Batman or Spiderman? Why not let them take a bite out of their favourite superhero with a themed birthday cake?
Cartoon characters – with a bit of creativity and skill you could make your child's birthday cake in the shape of their favourite TV character. Popular cartoon character cakes include Elmo, Kermit the frog and Thomas the tank engine.
Gender specific birthday cakes – for example, a fairy or princess cake for girls, or for boys a car or train cake.
Personalised birthday cakes with a child's name and a special birthday message. Most bakeries will do this for you or you can buy icing pens from your local supermarket and do it yourself!
Does your child have food allergies? They don't have to miss out on a birthday cake! Many bakeries and cake shops can cater to nut, dairy and gluten allergies so it's worth checking with them to see what they can do. If your child has multiple food sensitivities or allergies you will need to be more careful – cheesecake will probably be out but there are plenty of recipes available, which can cater to special dietary needs and you might find there are more options available for your child than you think.
Get a birthday cake for your kids' birthday party!
Not sure where to find great birthday cakes? Check out bakeries and cake shops in your area on our ActiveActivities Directory to see if they take special orders. Prices can vary immensely from around $20 for a standard cake from a patisserie, to upwards of $50 for something more personalised. A cheaper option is to buy a plain cake and decorate it yourself.
Do you enjoy baking? A good cake cookbook might have some clever creative suggestions for making your kids' birthday cakes extra special. Making a birthday cake can be a great kids activity for them to do in the lead up to their birthday party. If they are not particularly keen on baking, they might enjoy cake decorating and licking the bowl!