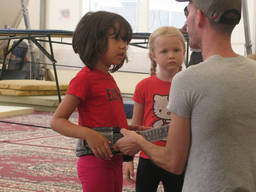 Kids should be safely secured before using a trapeze.
Join the circus and learn the flying trapeze!
The trapeze involves performing stunts on a swinging pole high up in the air. Originally a circus performance act, the flying trapeze has become a new sport and fitness craze across Australia!
A video of Trapeze For Kids
Talented kids performing their trapeze act in front of proud parents, teachers, and friends. If your kids love the circus, they'll surely love to learn how to balance on the trapeze.
information on Trapeze For Kids
Is the trapeze for your kid(s)?
Do your children have a good head for heights? If they are thrill seekers and want to improve their fitness and have fun, trapeze for kids might be the sport for them! Performing aerial manoeuvres high above the ground might not be for everyone, but if your children enjoy it, learning the trapeze may have plenty of benefits:
Develops core strength
Improves confidence
Helps improve flexibility
Enhances balance
Thrilling and exciting
Learning the trapeze is definitely one of the more adrenaline packed activities for kids and children who are afraid of heights or of a nervous disposition might find it a bit too scary. They might prefer juggling, learning to become a clown or other circus based kids activities where they can keep their feet on solid ground!
Trapeze lessons can start from as young as age 4 - if your preschooler can't get enough of the swing at the playground, why not give trapeze a go? Many parents are concerned about the risk of falls, but harnesses are worn at all times and trapeze schools are usually extremely aware of their students' safety and security.
Make sure your kids are dressed in tight fitting clothing as baggy clothes can get caught and make sure any long hair is tied back.
Get your kids to start trapeze!
Your child is now keen to try out some trapeze skills? You can find your nearest trapeze and circus schools online by checking our ActiveActivities directory. Lessons usually run during term time and most trapeze schools hold intensive workshops during the school holidays.
Costs for trapeze lessons can vary but you can generally expect to pay around $50-$70 per class. Discounts are often available if you book for multiple classes at once. If the trapeze doesn't appeal to your child, why not consider something similar like acrobatics or trampolining? Just watch out – the thrill of flying through the air can be addictive and you might find you have a young circus artist on your hands!