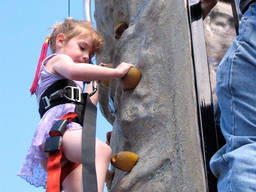 Rock climbing for kids is a sport which goes back to the end of the 19th Century when Victorians went to the Alps for varied reasons. Also known as aid climbing, rock climbing has evolved in terms of techniques and equipment for safety, and for reaching great heights that are impossible without aid. Rock climbing for kids is a newfound adventure for children, and is considered as one of the most exciting activities for kids today.
Category:Sports
Approximate age to start cricket: 4
Approximate price: $160
Gear/equipment needed and approximate price range: climbing gear, harness, rock shoes
This activity comprises of: rules, safety, entry passes, coaching, training, climbing equipment and gear, rock shoes, harness
Best period of the year: Year-round
Most appropriate region: Australia
School holiday programs available: YES
A video of Rock climbing for kids
Young kids showing their indoor and outdoor rock climbing moves
Information on Rock Climbing for kids
Is rock climbing for your kids?
Rock climbing for kids is an indoor activity that is equally fun and exciting as outdoor rock climbing. Rock climbing for kids is a stepping stone to learning the basics of climbing, the necessary equipment, and the safety measures which every climber must know. Indoor rock climbing is your kids' safe ground for climbing wall and abseiling. Rock climbing for kids is one of the many kids activities which must be supervised by professional coaches, trainers, and parents. Supervision of children is not a prerogative and is mandatory in all rock climbing gyms and facilities.
ActiveActivities Directory is a great source to find licensed and certified gyms and facilities for rock climbing for kids in Australia. We must never try to teach rock climbing to our kids if we cannot guarantee that they are in a safe and controlled environment. Enrolling our children to rock climbing for kids means that we entrust our children's rock climbing lessons to professionals as we keep an eye on them.
Get your kids to experience rock climbing!
Do you want your kids to experience a physically and mentally challenging sport? Rock climbing for kids is a sport which will allow your kids to learn self-discipline and determination at an early age. Among all kids activities, rock climbing for kids requires the participation of the parent to belay or hold the ropes of toddlers and children to guarantee that they are in safe hands. Apart from lessons on safety measures and equipment, participants are required to wear climbing gear and rock shoes. This is another rule which you must keep in mind. Wearing the proper attire and equipment is part of the rock climbing checklist. All rules in outdoor rock climbing applies to rock climbing for kids.
What are the benefits of rock climbing?
Balance
Coordination
Dynamic muscle strength
Flexibility
Mental and physical focus
Let your kids enjoy rock climbing games! Children as young as 4 years old may enrol in rock climbing. As parents, we are responsible for our children. We must determine if they are physically capable to meet the challenge of a demanding sport such as rock climbing for kids. Allowing them to explore different sports is a way for them to become active kids who are versatile and full of life.
Here are some tips for your kids' safety:
Check if they are wearing the proper attire and gear
Inspect their gears and replace when needed
Always remind them to double check the rappel system
Check the knots and harness buckles
Supervise your kids
For your own peace of mind, belay your kids' ropes
Enrol your kids to a licensed and certified rock climbing camp.
Let them climb up and abseil as you belay their ropes! Let your kids reach great heights, and give them room to grow.
Check out our ActiveActivities Directory for a list of rock climbing gyms and facilities in Australia.