Outdoor Activities for Kids in Perth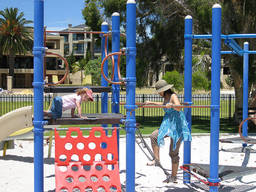 Playing at parks is one of the most enjoyable free outdoor activities for kids.
Are your kids adventurous? Do they like exploring? Then, it is best not to keep them confined in the house all the time. Sure, there are lots of indoor activities your kids can enjoy at home, and it's a lot safer at home. But did you know that it might be unhealthy for kids to just stay at home and watch the telly all day? It's time for them to stretch those muscles and keep moving! Why not plan your next family day in Western Australia? Perth, WA has lots of fun family activities and outdoor activities for kids. Spend the weekend in Perth!
A video of Outdoor Activities for Kids in Perth
Perth's 19 white sand beaches are the city's key destinations. Watch this clip for some outdoor activity ideas that your kids can enjoy on Scarborough Beach and other Perth beaches.
Information on Outdoor Activities for Kids in Perth
Why outdoor activities in Perth are great activities for your kids?
Western Australia, being the largest state in Australia, has lots of things to offer to its locals and visitors. Its capital, Perth, is the centre of activities. Described as one big holiday resort, Perth provides fun and exciting kids activities. The city is also perfect for outdoor activities because of its balmy Mediterranean climate. Some events in Perth are also aimed to entertain kids and the whole family. Here are some attractions and outdoor activities for kids in Perth that you and your kids should try.
Beaches
Did you know that Perth has some of the most beautiful coastlines in the world? Perth lifestyle is centred on the water; so whenever you are in the area, you must never miss the beaches. It has 19 white sand beaches; most of them are great for surfing. If your kids like surfing, try Cottesloe, Scarborough, Brighton, Leighton Port, and Trigg Island. If you prefer calmer beaches that have calmer swimming areas, try Peppermint Grove, Crawley Beach, and Como. Aside from surfing and swimming, you can let your kids try other exciting water activities like windsurfing and sailing.


Adventure Activities
What better place to enjoy adventure activities for kids in Perth than Adventure World? This amusement park in Bibra Lake has almost every feature an amusement park can offer! They have rides and amenities suitable for kids of every age. There are the Koala Kingdom and Kids Corner for the little ones and thrilling rides for the big kids, including the Tunnel of Terror and the Turbo Mountain Roller Coaster. They also have swimming areas and a water playground.

Adventure and nature activities for kids in Perth also include nature trips, hiking, and camping. These activities will help bring out the explorer in your kids. They will also help them learn some survival skills while in the woods. One great way to enjoy nature is by visiting parks and zoos. Some parks allow camping on their grounds and bush walking on their trails. Kings Park in central Perth is the largest inner-city park in the world. Best time to visit the park is during spring. That's when the Kings Park Festival is celebrated for a month, displaying its 2000 species of beautiful Western Australian flora. There is live music, exhibits, workshops, and family activities.

If your kids are in for some cute animal encounter, Perth Zoo houses various native and exotic animals, most of them endorsed for hand feeding. It is also known for fantastic events like concerts and animal shows.


Sports
Because of the favourable climate and its many pristine beaches, water sports are the most popular outdoor activities in Perth. It actually has become the haven of some major sporting events. Perth beaches produce some awesome waves perfect for surfing. Kiteboarding is also one of the latest craze in water sports in Perth among the bigger kids. Non-water sports that are also popular in Perth include outdoor hockey, lacrosse, tennis, and cricket.
On a tight budget? You don't need to fret, as most of these are free activities! Perth Parks and playgrounds are great places for walks and picnics during fine weather. Biking is also one of the most popular outdoor activities in Perth for it has the climate and flat terrain perfect for cycling. Perth is a perfect place to teach your kids how to ride a bike.
For a full list of all the outdoor activities your kids can enjoy in Perth, please visit our ActiveActivities Directory. The great outdoors offers endless possibilities and ideas for things to do with kids. They will surely have fun in Perth!
Articles related to your search: