Outdoor activities for kids in Norhern Territory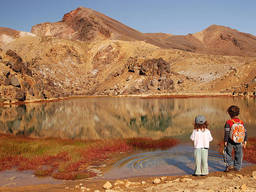 Known as the "real outback," Northern Territory, or NT, best represents what Australia is known for. Most of the iconic natural landmarks of Australia are found in Northern Territory. NT has two climate zones. The northern area has a tropical climate and has only two seasons – wet and dry; and the central region is the desert area of Australia, with semi-arid climate. With vast open spaces and lots of natural attractions, there are a wide range of outdoor activities for kids in NT!
A video of Outdoor activities for kids in Norhern Territory
The Jumping Crocodile Cruise in Darwin is one of the key tourist destinations in the Northern Territory. This is one of the coolest things to do for kids in Australia, and the best way to see wild crocodiles!
Information on Outdoor Activities for kids in Northern Territory
Why outdoor activities in Northern Territory is a great activity for your kids?
Northern Territory is home to hundreds of rare species of flora and fauna, sheltered by its 52 national parks and reserves. NT is also known for its rich aboriginal culture, including the aboriginal rock arts. The outdoor activities you can enjoy with the whole family in NT are ballooning, bushwalking and camping, fishing, and 4x4 adventures. The following are some of the key destinations for nature activities in Northern Territory.
Darwin
Darwin's diverse culture and relaxed outdoor lifestyle, with a tropical climate, are what make the city very interesting to go to. People from almost over 50 cultures live together in Darwin. The city is known for its Asian-style markets that showcase Asian culture including food, language, and music. Darwin is also home to aboriginal artists and musicians.

Berry Spring Nature Park is a popular picnic and swimming spot in Darwin. It also offers adventure activities including trekking in monsoon forests and woodlands, and bird watching. Another popular outdoor activity in Darwin is the Jumping Crocodile Cruise on the Adelaide River where you can get up close and personal with the famous jumping crocodiles. Darwin also serves as the gateway to Northern Territory. There are day trips and guided tours offered to explore the territory.
Alice Springs
Alice Springs, also known as the Red Centre, is considered as the centre of activities in Northern Territory. It is comprised of hollow gorges, desert landscapes, and aboriginal communities. The best way to explore this adventure travel destination is by four-wheel driving, trekking, or camping. Alice Springs is home to some of Northern Territory's most popular tourist spots: Kings Canyon and Uluru-Kata Tjuta National Park. Go for some outback ballooning to appreciate the beautiful landscapes and unique rock formations.
Kakadu National Park
Australia's largest national park, Kakadu National Park showcases spectacular landscapes, wildlife, and cultural heritage. The park is indeed a nature lover's paradise with billabongs, waterfalls, lotus flowers, and crocodiles. You will also find here aboriginal rock arts, some were 20,000 years old. Learning about the culture and traditions of the aborigines that lived in the park years ago is an inspiring experience. Kakadu National Park is the best place for outback adventure travels, aboriginal culture explorations, and nature activities.
Katherine Gorge
Located at the Nitmiluk National Park, experience the majestic Katherine Gorge via bushwalking, swimming, canoeing, or boating. After your adventure trip, it's nice to take a relaxing dip in Katherine Hot Springs, surrounded by native flora.
Add some extra fun with these adventure outdoor activities by playing some outdoor games for kids! Add excitement to bushwalking by playing scavenger hunts and treasure hunts. Fishing games are fun, too! Aside from outdoor adventure activities, your kids can also try to participate in some of Northern Territory's popular sports for kids: AFL, cricket, rugby, horse racing, soccer, and baseball.
Northern Territory also offers indoor activities for kids and for the family that are as fun and exciting. Visit the Museum and Art Gallery of the Northern Territory in Darwin to see the natural science exhibits and aboriginal art. There are also indoor sports facilities that accommodate indoor games of soccer, netball, and cricket in a relaxed environment. You can also hire these venues for family activities and parties. Check the available indoor sports facilities in our ActiveActivities Directory. There you will also find available tours around Northern Territory, as well as more kids activities suggestions.
Northern Territory is one big adventure theme park. Get your kids to have an authentic outback experience with thrilling outdoor activities!
Articles related to your search: