School Holiday Camps for Kids in Adelaide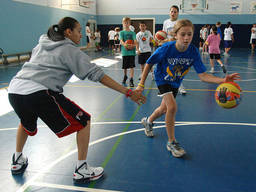 Education for kids is essential, and as such, parents want their children to constantly learn, even when they're not in school. Most school holiday activities have that purpose – to educate children while being entertained. The school holiday activities that can be really effective when it comes to learning something new are school holiday camps. In these camps, they get to meet new friends, enjoy a lot of activities for kids, and of course, learn new things in a safe and child-friendly environment. South Australian holidays only last for around 2 weeks during the year. Make your kids holidays in SA special and memorable with school holiday camps!
A video of School Holiday Camps for Kids in Adelaide
The basketball team Adelaide 36ers did a basketball training camp for kids during the school holidays. Sports camps are perfect to keep your kids active and fit even during the holidays.
Information on School Holiday Camps for Kids in Adelaide
Why are school holiday camps for kids in Adelaide great activities for your kids?
Spending the holidays in Adelaide in South Australia can be really fun if you know what your kids like to do. Adelaide offers endless ideas, attractions, and kids activities for them to enjoy in the school holidays. School holiday camps are ideal in Adelaide because of its warm Mediterranean weather – perfect for outdoor activities. School holiday camps also come in varieties that your kids can choose from depending on their interests.
Boot Camps
Boot camps for kids are training camps aimed to promote a healthy lifestyle and fitness in all areas. Boot camps cover areas including general fitness and sports. Programs in boot camps are based on the Army's fitness principles. The programs have balanced approach so that both energetic and not-so-energetic kids can participate and have fun in the activities.


Sports Camps
Sports for kids that are popular in Adelaide include Australian rules football, soccer, cricket, netball, and basketball. School holiday camps in Adelaide, such as sports camps in Adelaide, are sometimes held in recreation centres complete with facilities like a court for basketball camps, or an indoor arena for soccer camps.


Nature Camps
Nature camps are perfect if you are looking for ways to spend the holidays with the whole family. With nature camps, you don't need to enrol your kids in school holiday programs. You can organise your own family camping trip at Adelaide's camping grounds and holiday parks, which you can browse in our ActiveActivities Directory for more details. Adelaide Zoo is also a nice place to have nature trips, because the zoo allows interactions with some of its animals. Adelaide Zoo also has trails where you can go trekking.


Adventure Camps
The purpose of adventure camps is to bring out the explorers in your kids and build relationships. Some adventure camps are arranged by community groups, such as the Scouts and YMCA. Their adventure camps combine adventure activities with important concepts like leadership, team building, and survival skills.


Workshops
A lot of workshops are also offered during the school holidays. Workshops help kids learn new hobbies or cultivate their potential in a particular talent. Workshops range from theatre, music, and dance workshops to arts and crafts workshops.
School holiday camps can last from a few days to a couple of weeks. Parents may not be able to supervise their kids in camp, so when choosing a school holiday camp for your kids, make sure to research first on all the camps you have considered. Check if they have complete facilities and qualified staff that will supervise them all the time.
Don't want to send your kids to school holiday camps but still want them to have an enjoyable experience? Adelaide offers lots of other school holiday activities for kids. You can take them to theme parks, play centres, and family holiday spots like beaches and barbeque and picnic areas.
Relaxing at home during the school holidays can be boring. Add a twist to their vacation by sending your kids to school holiday camps in Adelaide!
Articles related to your search: