Camping with kids in Queensland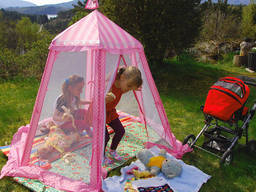 With vast open areas and natural bushland settings, Australia has some of the best camping areas in the world. One of the ideal places to go camping is the Sunshine State, Queensland. QLD has many landscapes that range from sunny tropical coastal areas and lush rainforests, to dry inland areas. The climate in the state is mostly dry, so you will have more time to go camping with kids!
A video of Camping with kids in Queensland
Not sure if your kids will enjoy camping in Queensland? Watch this family?video showcasing a great family?camping adventure in Ford Territory, Fraser Island, Queensland.
Information on Camping with kids in Queensland
Why is Queensland a great place to go camping with your kids?
If your children are the adventurous type, then they would enjoy the outdoor and adventure activities for kids in Queensland, including camping. Camping with kids in Queensland is a great way to bring the family together while seeing the breath taking landscapes and enjoying the nature. Get to see some of the best rivers, beaches, and QLD holiday parks. It is also a great time for your toddlers to learn how to survive in the great outdoors. Teach them survival skills like tying knots and building a campfire, and play some fun outdoor activities for kids like fishing, trekking, canoeing, and kayaking.
Campsites can be found throughout Queensland, from large cities to remote locations. Enjoy sleeping under the stars at amazing camping grounds around Queensland.
Bush camping
Explore the wilderness! Fresh air and nature is what camping is all about. One favourite spots for bush camping in Brisbane is the Flanagan Reserve. Just an hour drive to the south of Brisbane, Flanagan Reserve has facilities including toilets, showers, and a shop. The most in-demand camping spot is on the banks of the Logan River. The camping sites at Flanagan Reserve have picnic tables and a wood-fired barbecue. Get away from the city and go swimming or canoeing on the Logan River, or go biking on the dirt road.
Beach camping
Heading to the beach this summer? Instead of looking for hotels and other types of accommodation, go for the cheaper alternative ? beach camping. Beach camping adds excitement to your coastal vacation with the family. You can choose camping on the lakeside, along the ocean, or near the rocky coast. One popular spot for beach camping in Queensland is the Great Barrier Reef. The islands near the reef serve as great spots for beach camping because of the beautiful sceneries and the countless of fun kids activities you can do. You can choose from Whitsunday Islands, Capricornia Cays, Dunk Island, Fitzroy Island, Frankland Islands, Lizard Island, and Orpheus Island.
Caravan parks
The easiest way to find a good place for camping is going to caravan parks. Caravan parks have wide open spaces that serve as camping grounds. If you plan to spend the night in your RV, then you can park them at caravan parks. They also provide facilities including picnic and barbecue areas, bathhouses, restrooms, and a gift shop. Some have playgrounds for kids, too. To see the available caravan parks in Queensland, you can check our ActiveActivities Directory.
Free camping sites
Camping is a great way to explore without spending much. Public camping grounds provide free camping sites, and you only have to spend on food and personal needs. It can get a little crowded so make sure to come early to find a good spot. Visitors Centres will tell you if there are free campsites in there area, it may not be the case. Make sure you camp on a official free camp site, it is not authorized to go camping anywhere. You will be given adequate guide information, such as accessibility, road maps, and other must-haves to help you prepare for a fun and a one-of-a-kind adventure!
National parks
The national parks in Queensland offer unique opportunities to experience wilderness recreation such as bushwalking, camping, bird watching, and biking. National parks also offer adventure activities for kids like zip lining, rock climbing, and caving. National parks in Queensland provide cheap camping, costing around $5 to $10 per person per night.

QLD has popular national parks which are well-worth visiting:

Conondale National Park (formerly Kenilworth Forest Reserve)
D'Aguilar National Park (includes the former Brisbane Forest Park and Mount Mee Forest Reserve)
Daintree National Park
Fraser Island, Great Sandy National Park
Inskip Peninsula Recreation Area
Lamington National Park
Moreton Island National Park
Noosa National Park
Cooloola Section, Great Sandy National Park
Whitsunday Islands National Park
Queensland has many great places to camp, from the outback and forests, to the beaches, and national parks. Visit our ActiveActivities Directory to find the perfect camping spot to suit your family. The state has diverse camping spots for all types of camping. Enjoy the school holiday and go camping with kids!
Articles related to your search: