Family Holidays in Western Australia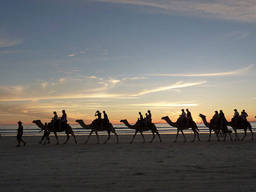 Spectacular sunset view and exciting camel tours in Cable Beach, Broome, WA.
The Australian holidays are perfect occasions to spend quality time with the family. School breaks are great to spend time with your mates in the different kids School holidays camps available whilst parents are busy with work. Public holidays, on the other hand, can be a time for family holidays as parents also take a break from work. If you are considering spending family holidays in the outback, then Western Australia is an excellent place!
A video of Family Holidays in Western Australia
Perth, Rottnest Island, and Margaret River are some of the hottest family holiday destination spots in Western Australia.
Information on Family Holidays in Western Australia
Why family holidays in Western Australia are great activities for your kids?
Western Australia is referred to as the natural adventure playground, with its beaches, water sports, breathtaking natural surroundings, and other popular attractions. Your adventurous children will definitely never get bored in Western Australia. The holidays might not be enough to try all the action-packed kids activities in WA.
Perth
Considered as the most isolated city on Earth, Perth is one of the most interesting cities in Australia. Family holidays in Perth will be very worthwhile, as the capital city is rich in cultural and historical sites, including museums, galleries, and cultural centres. It is a mix of well-preserved, old buildings and tall, modern skyscrapers. Perth also has parks and recreation sites that are perfect for relaxation. Perth Zoo has lots of native and exotic animals, while Kings Park has lots of beautiful species of flora. Enjoy these sites while taking a walk along the trails and walk-through habitats.

The beaches are also great spots for family holidays. Surfing is one of the most popular activities for kids on beaches. Perth has some of the great surfing beaches and safe swimming spots, also great for snorkelling and swimming with the dolphins.


South West
The south west region of Western Australia is home to the Margaret River region, which offers some of the best surfing beaches, great wineries, and gourmet food. Camp out under the night sky with only the tall tree forests as shade or explore its underground caves and sea cliffs.

Experience a different world and escape to the Cape Region. Located 250km south of Perth, the Capes will let you discover deserted beaches, hammering surf, rocky cliffs, and vast vineyards. Holiday accommodations in the region have outstanding facilities, aside from scenic picnic areas.


Golden Outback
For a true outback adventure, drive down to the Golden Outback! Experience authentic Aboriginal encounters with tours around mining towns and settlements built by gold rush pioneers. Kalgoorlie, the heart of Western Australia's gold mining country, is a living museum where your kids can visit and explore the open-pit mine and old mine shafts, and even learn about gold-panning. For some world-class windsurfing and diving, head down to the coast around the town of Esperance.


Coral Coast
One of the most popular attractions of Coral Coast is Monkey Mia, where you can feed the friendly bottlenose dolphins. Also make sure to head over to Shell Beach to show your kids some of the biggest and oldest fossils in the world, the Hamelin Bay stromatolites.

North West
Further north of WA is the Pilbara region, home to the beautiful gorges of Karijini National Park. Other popular tourist destinations in the north west are the Broome and Kimberley regions. Broome's Cable Beach has some deserted spots where you can take sunset camel rides. The Kimberley is a remote and rugged region three times bigger than England. It has stunning gorges and splendid waterfalls.
Aside from amazing destinations, another reason you should have your family holidays in Western Australia is the variety of holiday accommodations, from hotels to cottages. View these choices as well as other awesome family holiday destinations in WA in our ActiveActivities Directory.
Whatever you decide to do and wherever you decide to stay in Western Australia, your family holidays here will absolutely be one unforgettable adventure!
Articles related to your search: