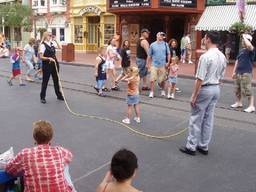 Jump rope or skipping rope for kids is a simple, yet effective way to get your children into aerobics. Rope skipping for kids is done by jumping over a passing single rope under your feet and over your head. This can be done solo or with a group, and can be used with single or double ropes. Skipping rope is excellent for your children and is also a great way to promote health and fitness for kids in Australia. Aside from strengthening their endurance and stamina, skipping rope also helps in improving your children's rhythm and coordination. Your kids can also play games using the jump rope to create a better group dynamic with other children. This makes rope skipping for kids a great social activity for your children.
Category: Health and Fitness
Approximate age to start Rope Skipping: 5
Approximate price: Average price of $8.
This activity comprises of: training, rope, coaching
Best period of the year: All year round
School holiday programs available: YES
A video of Rope Skipping for kids
Children practicing an impressive skipping rope routine.
Information on rope skipping for kids
Why is Rope Skipping a great activity for your kids?
Why is rope skipping one of the healthiest kids activities in Australia? There are many benefits to encouraging your children to play skipping rope. Aside from it being one of the simplest and cheapest sports for kids that only require a jump rope that is available at any toy or sports store, rope skipping for kids can also be fun and interesting. There are many skipping rope tricks that your kids can learn while playing.
Popular skipping rope games like:
Jump rope relay,
Chinese jump rope, and
Wiggle rope
Skipping rope songs are usually nursery rhymes being used for their rhythm. Original skipping rope songs are usually repetitive and will recite lyrics that are in forms of lists such as Cinderella, Banana Banana, Baby in the High Chair, Teddy Bear and Mary and Johnny. Skipping rope songs and games can make the activity even more interesting for kids whether they play it alone or they play it with other children. While having fun, you won't even notice the benefits that your children will be reaping from playing rope skipping for kids –making it one of the top kids activities in Australia.
Kids activities such as rope skipping for kids can help your child in terms of:
Improved cardiovascular fitness
Increased muscular strength
Better endurance
Excellent body conditioning
Greater flexibility
Improved coordination
Better timing and rhythm
Improved balance
Increased agility
Increase in team skills
Increase in self esteem
Fun and educational
Opportunities to be creative
Get Your Kids to Start Rope Skipping!
Where can you find venues for your children to develop their skill in rope skipping? In Australia, there are several organisations and groups that promote athletic jump rope and rope skipping for kids. This is to promote healthy lifestyles to children as early as toddlers, and to endorse skipping rope as a great way to introduce sports for kids.
Heart Foundation's Jump Rope for Heart is a known organisation that organises events and competitions through the help of schools to attract participants all over the country.
Basic exercise with skipping ropes can be challenging if you change the rope length and more ropes or people are added to the mix. The shorter the length of your rope, the faster the rope will pass over your head and under your feet that can add variety to your kids' jump rope skipping exercises. Adding more ropes and more people can build a team that can create a dance routine using jump ropes. Australia has an organisation called "Skipping Australia" that trains people of all ages to train for athletic skipping rope for kids. They are affiliated with 5 more countries that all meet for competitions within the year.
Skipping rope clubs can be found all over the country. The major areas of organisations are Queensland and New South Wales. But with the simplicity of skipping rope, requiring only a rope to be able for kids to play it is what makes it one of the most popular activities for kids in Australia. But if you think that skipping rope for kids is not a good sport for your very energetic child, then you can check our ActiveActivities Directory to introduce another fun activity for your child such as footy or hockey.
Skipping rope is a simple and cheap way to get your kids into a sport!