Articles related to your search:
Adventure Parks for Kids
Are you looking for a challenge for the whole family? Why not take the kids to an adventure park this weekend? Adventure parks are like outdoor obstacle courses with a number of activities for kids designed to physically test even the fittest and strongest of children. Usually located in bushland or woods, an adventure park differs from a theme park in that rather than having rides or amusements, it has a number of physical challenges laid out in a sequence.
Read more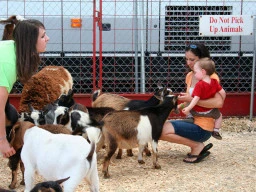 Kindy zoos for kids
Kids will go wild for these Kindy Zoos! Kindy Zoos are zoos where animals are typically smaller and easier to handle so that kindergarteners can have the most fun. Examples of kindy zoos include mobile farms and petting zoos. Pet a tiger cub or a kangaroo today!
Read more