Entertainment Activities for Kids in Adelaide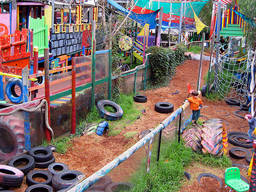 Kids, being naturally active, always need to keep moving. Most kids can easily get bored, but with endless ideas and sources of entertainment in Australia, you can be sure that your kids are always occupied, especially during school holidays. If you're living in South Australia, we suggest Adelaide as a place to spend your family holidays. It has lots of events and attractions that are absolutely fun for kids and families!
A video of Entertainment Activities for Kids in Adelaide
St. Kilda Adventure Playground has lots of fun and exciting features; it will take a whole day to try everything. Look how much fun she's having!
Information on Entertainment Activities for Kids in Adelaide
Why entertainment activities in Adelaide are great activities for your kids?
Adelaide, surrounded by parklands and gardens, is rich in culture, arts, and festivals. Entertainment activities for kids and school holiday activities in Adelaide are not only enjoyable, but educational as well. Entertainment centres provide lots of kids activities like arcades, sports, and other recreational activities fit for the whole family. National parks let kids get in touch with nature, and beaches offer fantastic views and safe swimming areas.
Adelaide Entertainment Centre
Located at the corner of Port Road and Adam Street in Hindmarsh, Adelaide Entertainment Centre (AEC) is an indoor arena that serves as a venue for live entertainment and other Adelaide events and entertainment activities. The AEC, with an event arena and seven function rooms, is the largest auditorium in SA.


Adelaide Zoo
Adelaide Zoo at Frome Road has guided tours where visitors can see animals in their natural habitats. Kids will be fascinated with the walk through aviaries and the reptile house. They will also learn about endangered species and how to take care of our animal friends.


Airborne Action
If your kids love extreme adventure (and don't have fear of heights), then they will love this place! Airborne Action, located at Old Noarlunga, is a fun and safe place where kids and adults alike go to experience cable hang gliding. Kids from 3 years old can try this activity. They are secured to the glider with a full body harness.


Adelaide Aquatic Centre
Adelaide Aquatic Centre is a great summer destination for kids! They have fun water entertainment activities like huge water slides, shower caves, play pools, an Olympic-sized pool, and water toys for kids. It provides almost everything that water enthusiasts need. They also offer swimming lessons for all ages. Adelaide Aquatic Centre is located at Jeffcott Road, North Adelaide.


Strawberry Farm
Who doesn't love strawberries? Around October to May, drop by Mount Barker Road and go on a trip around Beerenberg Strawberry Farm. Kids can visit the old barn, pick fresh strawberries, and even buy goodies made from strawberries, like jams and candies.


Fairyland Village
Big and small girls alike who love fairy tales will definitely enjoy this bushland park at Adelaide Lobethal Road. Fairyland Village features 14 small huts, with life-sized antique displays of classic fairy tales inside. There are also storyboards for visitors to read.


The Beachouse
Amusement and theme parks are one of the most in demand entertainment activities for kids. Just a 20-minute drive from the city centre, The Beachouse in seaside Glenelg has excellent attractions, including waterslides of up to 130 metres, dodgem cars, a five-storey high play castle, Australia's oldest carousel, and more!


Melba's Chocolate Factory
Almost every kid has a sweet tooth and loves chocolates. They might be interested in how chocolates are made! The famous Melba's Chocolate Factory, situated in Woodside, allows visitors to walk through the different production areas where yummy chocolates and confections are made. Entrance is free!


The Toy Factory
Tours in factories are not only great entertainment activities for kids; factory tours also satisfy their curiosity. At Gumeracha in Adelaide Hills, your kids can visit The Toy Factory to see how quality wooden toys are made. You can also find the iconic Big Rocking Horse there.


City Sk8 Park
Skate parks are located in almost every neighbourhood since skateboarding is one of the most popular sports and entertainment activities among kids. The most popular skate park in Adelaide is City Sk8 Park, located in North Terrace. Skateboard enthusiasts, mostly teens, showcase their skating skills at City Sk8 Park. During South Australian school holidays, the park hosts a range of activities and events. The park also has features, such as ramps, steps, and blocks where skaters can test their skills.


St. Kilda Adventure Playground
St. Kilda Adventure Playground is an award-winning playground for the whole family. It has lots of entertainment activities for the adventurous spirit. The flying foxes, giant swings, spiral slides, monorail, and maze will keep everyone entertained.


Adelaide Festival Centre
The Adelaide Festival Centre has a program called Something on Saturday, which offers fantastic entertainment activities for kids aged 3 to 10 years old. The centre also offers live performances (music, dance, puppetry, pantomime) and workshops, including the free Kids Corner Craft Workshop.
Entertainment activities for kids in Adelaide are limitless. Even in the neighbourhoods, kids can enjoy leisure activities without any cost. Have picnics at the nearest playground or at the parks. Day care centres provide fun activities, too. Older kids can play beach volleyball, go surfing or canoeing at beaches along Adelaide's coastline.
Other cities in other states and territories in Australia also have entertainment centres and recreation centres that offer entertainment activities for kids and the whole family. Wherever you are in Australia, you are sure that your kids will never get bored. Visit our ActiveActivities Directory for more entertainment activities suggestions in Adelaide and other areas.
If you're thinking of a family holiday vacation in Adelaide, it is definitely a great option. The city offers a great selection of entertainment activities to keep your kids busy!
Articles related to your search: