Fairs & Festivals for Kids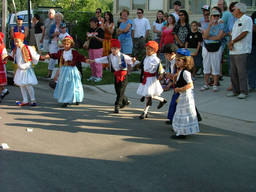 Roll up! Roll up! Let your kids enjoy all the fun of the fair!
Fairs & festivals abound across Australia, from country fairs, to craft fairs to food and film festivals and there's sure to be fun for all the family!
A video of Fairs & Festivals for Kids
The Australian Dance Festival is a perfect Kids activity and is great fun for the entire family. In this part of the festival you can see China Dolls in modern interpretation of a Han people's dance. Choreography and training by Jing Chen, professional dancer and teacher of modern Chinese dance, ballet, and Chinese Classical dance.
Information on Fairs & Festivals for Kids
Are fairs & festivals for your kid(s)?
Do your kids enjoy outdoor games and the thrill of showground rides? Then we think they are sure to love a trip to any fairs & festivals near you. Fairs & festivals or an expo cover such a wide range of interests there's sure to be something new to do almost every weekend! Opportunities and activities for kids include:
Sampling new food and learning about other cultures at education fairs
Trying a new musical instrument at a music festival
Free "come and try" kids' events are a safe and inexpensive way for them to try new activities that could lead to a new craft or hobby interest
A great way to burn off energy outdoors in the summer!
Fairs & festivals are family-friendly and full of kids activities, from apple tasting to face painting. At fairs & festivals kids can listen to buskers, try all kinds of food from roast chestnuts to Devonshire teas, and laugh at clowns.
No matter whether your children are active and outgoing and want to get involved in what's going on or they prefer to watch and listen before plunging in, fairs & festivals are full of kids' attractions. There's sure to be something to suit all tastes and interests!
Fairs and festivals for kids generally have a range of kids' attractions suitable for kids up to age 7, including games, novelties and junior amusement rides.
These are usually outdoor events so make sure your kids are well protected against summer sun and take plenty of water!
Get your kids to fairs & festivals!
Want to keep your kids amazed, amused and active? Why not find out about fairs & festivals near you? Many fairs & festivals charge for entry and a family ticket is usually available.
If you're not in the mood for fairs & festivals, consider a visit to an art gallery, a music event, or perhaps a museum. Check our ActiveActivities Directory for all these venues and our Kids events page! There's sure to be something interesting going on somewhere near you this weekend!