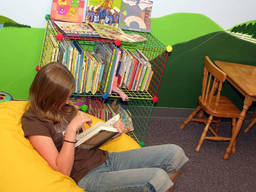 Help your kids awaken to a whole new world of wonder through reading!

Libraries are treasure troves of learning and information. They are usually community facilities run by the local Council but there are also big State and national libraries. They are found in most communities across Australia, even in rural areas, there is sure to be a library not too far away or a mobile library service. Give your kids a chance to explore completely new worlds through reading!
A video of Libraries for Kids
The Children's Interactive Library project was an untraditional interdisciplinary research and innovation project exploring the children's library of the future.<br><br> The objective was to create spaces for children in the library that offer new experiences, learning, events, sense impressions and physical activity. And at the same time acknowledging the library'sunique capacity of being the place where cildren come in order to aquire information and knowledge.
Information on Libraries for Kids
Are libraries for your kid(s)?
Do your kids love reading? It can be expensive to keep buying books, so to save money they might love a membership of your local library. Your library contains books on a huge range of subjects and if they don't have a particular book right there, they will order it for you. Libraries can open a huge window on the world for kids and often provide specific kids activities.
Libraries:
Give your kids a head start on education
Provide information on almost anything your kids might be interested in
Help stimulate your kids' imaginations through reading fiction as well as non-fiction
Help advance your kids' literacy and communication skills, increasing their vocabulary
Libraries are not only about books, there are toy libraries too!
These days libraries and their books are accessible online. Libraries provide many digital sources of information, such as video and audio material.Libraries,also provide access to reading clubs and reading groups.
There is such a diversity of reading material in libraries (not only books but magazines and comic books) that all your kids are sure to find something to get absorbed in. Even young children who are not yet able to read can be entertained by a storytelling or nursery rhyme session.
While libraries are generally safe places, you'll still need to keep an eye out to make sure your kids don't make a lot of noise or drop heavy books and hurt themselves. Alternatively, many libraries have a website that you and your kids can access from home and download reading material that way.
Get your kids to go to a library next weekend!
Want to get your kids exploring amazing new facts 2012 is the Australian National Year of Reading so why not take them to your local library where membership is usually free. Museums, science centres and exhibitions may also have libraries associated with them which can be another fun reading avenue to explore! Check out our ActiveActivities Directory for your closest library, and library activities.