Tennis For Kids In Adelaide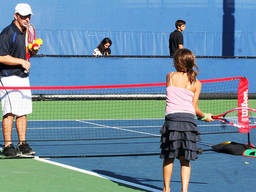 Tennis is very famous all over the world and is an Olympic sport that is played by people of all ages. It was first played in England during the 19th century. The tennis community in Australia is huge, especially in Adelaide. The biggest tennis tournament in Australia is the Australian Open, which is part of the 4 major tournaments, called Grand Slams, together with the French, British and American Opens. Tennis for kids is called junior tennis. It is played by kids 18 years old and below.
A video of Tennis For Kids In Adelaide
If your kids are tennis enthusiasts, enrol them in tennis coaching classes where they will get proper tennis training. It will also get them to join the Kids World Tennis Challenge in Adelaide.
Information about Tennis In Adelaide For Kids
Why tennis in Adelaide is a great activity for your kids?
There are many tennis courts in Adelaide. Memorial Drive Park used to host the Adelaide International, a major tennis tournament that leads to the Australian Open. Now, it is called the Brisbane International, when the tournament moved to Brisbane. The World Tennis Challenge also kicked off in Adelaide last January 2012 in Memorial Drive Park. There are also other sporting events in Adelaide for cricket, football, basketball, netball, and bicycle races. The most notable tennis players from Adelaide are Darren Cahill (Australian Davis Cup coach), John Fitzgerald (Australian Davis Cup captain), and Lleyton Hewitt. Want your kids to be great tennis players like them? Get them to play tennis in Adelaide's public courts and clubs!
In 2010, the International Tennis Federation modified the official rules appropriate for kids aged 10 and below. This was done for kids to experience real tennis, and not just practice or pretend tennis. Why choose tennis for your kids? If your kids prefer non-contact sports and activities for kids, then they should try out tennis. It is a fun way to keep them active. Racquet sports, like tennis, provide many advantages and benefits.
Brain development
Junior tennis helps brain development in kids. To become good tennis players, kids need to be alert and to be good logical thinkers.


Exercise
Playing this sport is a great cardiovascular workout. The hand and foot works help develop stronger limbs and joints. It is also great for agility and strength.


Physical development
Tennis also helps in improving your kid's flexibility, hand-eye coordination, gross motor skills, and their speed.


Little to no injuries
Being a non-contact sport, parents will have peace of mind knowing that their kids will not be hurt, provided that they do warm ups before a game. Junior tennis only requires rackets light enough for them to carry. The ball is soft, too.


Social benefits
Kids can play in a junior tennis tournament or just a simple social tennis with their peers. Either way, it is a great way to meet new friends and exercise with them.
Tennis is suitable for both boys and girls of all ages. You can start introducing this sport to your kids as young as 3 or 4 years old. Tennis coaching programs that cater to all ages and skill levels are available in Adelaide. They can either be recreational programs, group lessons, or private lessons. A recreational game of tennis can be done in public courts so it can only cost from $0 to $3 per hour. Group lessons can cost from $5 to 10$ per hour, and private lessons from $20 to $80 per hour. In choosing the right coach for your kids, make sure that they are Tennis Australia-Certified and specialise in training kids.
Don't know where to play tennis in Adelaide? Our ActiveActivities Directory provides a list of public courts and tennis clubs in Adelaide. You can also browse for other sports and recreation in Adelaide as well as other kids activities.
Introduce your kids to an active and healthy lifestyle at an early age. Some of the greatest tennis players come from Adelaide. Get them to play tennis in Adelaide!
Articles related to your search: