Community Activities for Kids in Melbourne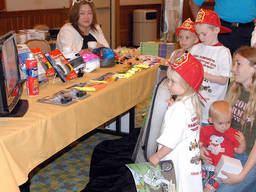 Giving back to the community is one of the greatest things your kids can learn. Volunteering and participating in community activities for kids are ways that your child can become agents of change. They can also help your child feel a sense of being a part of the community – a social group larger than the family. Community activities can also mean team building for kids. These activities help build a strong relationship among kids and with elders as well.
A video of Community Activities for Kids in Melbourne
Some community schools are specialised, bringing together kids with the same conditions. This particular community group in Melbourne has physically disabled kids as members. Despite their disabilities, they are still willing to help and contribute to the community in their own way.
Information on Community Activities for Kids in Melbourne
Why community activities in Melbourne are great activities for your kids?
If you live in Melbourne, Victoria, you can get your kids active and productive by letting them participate in community activities. Community activities for kids in Melbourne and other places in Victoria and Australia are venues where your kids can play with other kids while learning valuable concepts and getting involved in the community. Teach them responsibility at an early age through community activities for kids!
There are various ways for your kids to participate in community activities in Melbourne. There are non-profit groups, like YMCA and the Boys and Girls Brigade, available in the city where they have kids activities like community service, camps, and leadership training.
You can also have them attend community learning centres and community centres in Melbourne. Community learning centres are like schools – they both aim to educate, except that community learning centres specialise in services. Most focus on a specific age-group, like infants or preschool-aged children. They provide day care activities and tutoring, such as teaching kids basic academic skills like counting, reading, and speech.
Community centres, on the other hand, provide more than just educational programs. They also provide social, health, and recreational services for the community's residents. Community centres also serve as venues for members of the community or group to gather for meetings and other purposes. These centres are staffed by volunteers that share a purpose of fostering a sense of community in an area.
There are also Melbourne community schools that provide support for kids, teens, families, and communities. They serve as educational institutions and centres of community life that promote progressive education. Most community schools in Australia partner with volunteers to minimise school fees. One independent public school in Melbourne is the Sherbrooke Community School in Sassafras. The community learning centre focuses on improving literacy and math skills. They cater to kids from Prep to Year 12, providing comprehensive education and personal development.
Another independent school in Melbourne is the Melbourne Community School. It is a small independent primary school run by parents. Unlike mainstream schooling, the Melbourne Community School has small class sizes, enabling teachers to focus more on the individual needs of each student. Basic academic skills are taught through fun and educational games in a friendly and relaxed environment.
If you would like your kids to learn about getting involved in the community with a Christian foundation, there are also Christian community schools in Melbourne that teach kids from K5 to Year 12 the Words of God, Biblical wisdom, and following the footsteps of Christ as an individual and as a member of the community. Christian community schools are founded on the belief that serving the community is also serving the Lord.
Look in our ActiveActivities Directory for community schools, community learning centres and community centres in Melbourne. We also provide ideas for community activities for kids in Melbourne as well as other cities including Sydney in New South Wales (NSW), Brisbane in Queensland (QLD), Perth in Western Australia (WA), and Adelaide in South Australia (SA).
Joining these community groups, learning centres, and schools will teach your kids that they are part of a bigger world and they should do their part to contribute to the betterment of the community, by taking care of each other and of the environment we live in. Even at home and in the neighbourhood, they can participate in community activities by doing simple things like helping in house chores, throwing garbage properly, and helping elders as well as other kids in need.
Donating their time to the community at a young age will help kids become good problem solvers and decision-makers. It will also develop awareness of local issues; and when they grow older, they will be more able to understand global concerns. Being open to these concepts at an early age will make their transition from childhood to adulthood easier!
Articles related to your search: