Community activities for kids in New South Wales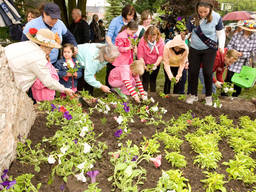 Participating in community activities for kids are great ways for children to learn important concepts like responsibility, discipline, and maturity at a young age. As young as toddlers, it is recommended that they are already encouraged to partake in such activities for them to gain social awareness as well as to gain a sense of belongingness in a larger family ? the community. Looking for things to do with kids in New South Wales? Encourage your kids to be involved in worthwhile and productive activities such as community activities!
A video of Community activities for kids in New South Wales
Join the Australian scouts! Both big kids and small kids can do it!
Information on Community activities for kids in New South Wales
Why is New South Wales a great place for community activities for your kids?
A community is characterised by shared needs and obligation to meeting those needs. It means that a community works together in order to meet their needs as a community and the needs of the members individually. The members are also willing to work together to help the less fortunate communities. Creating kid-friendly communities is a significant part of building strong Australian states and territories. Community activities for kids in New South Wales enable kids to learn about the pressing matters in the community in a way that they will understand. These activities also allow them to contribute to the community in their own little way.
NSW has community youth organisations that provide community activities for kids.
Scouts
The scouts is an organisation for children which aims to support the youth in their physical, mental, and spiritual development, in order for them to play a constructive role in the society. The scouts are divided into age groups: joeys, cubs, scouts, venturers, and rovers. There are more than 20,000 girls, boys, and adults in NSW that are members of the Scouts that enjoy a wide range of activities, not limited to community activities. Scouts Australia NSW has over 700 scout halls, campsites, and activity centres. Check the ActiveActivities Directory to look for the one nearest you.
Boys Brigade and Girls Brigade
Almost similar with the mission of the scouts are the boys brigade and girls brigade. They are Christian youth organisations that also conduct kids activities that promotes obedience, responsibility, discipline, self-respect, and respect to others. The boys brigade in New South Wales is part of the international organisation that runs in 60 countries with over 500,000 members. Their activities are high energy, fun, and challenging that helps boys reach their potential through balanced physical, spiritual, educational, and social community activities. The girls brigade in NSW on the other hand has relationship building, achievement based programs that also help develop the physical, social, educational, and spiritual aspects of the girls. Girls brigade has 49 companies located around NSW.
YMCA
Community-based organisations also help nurture children by means of hosting community and education activities for kids and families. YMCA, for example, has programs that will help bring the family and community together. YMCA is a non-profit charity organisation providing programs focused on families and developing young people. They have over 110 location in more than 40 communities in New South Wales.
Browse the ActiveActivities Directory for a list of local youth organisations and YMCA centres around NSW as well as other community organisations that your kids can join.
Community activities are great ideas for school holiday activities in New South Wales and also in other states and territories. Create social awareness and responsibility in your little ones as early as possible!
Articles related to your search: