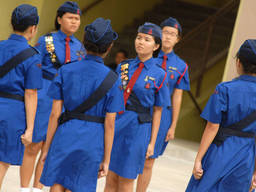 The Girls Brigade helps develop leadership and socialisation skills in such activities such as marching drills.
Young ones can make influential contributions to the community and the world!
The Girls Brigade is an international Christian youth organisation that started in Dublin, Ireland in 1893. It was founded on two pillars: the Bible class and physical training. Now The Girls Brigade operates in more than 60 countries, including Australia. The first International Conference was held in Australia in 1998, and is held every four years.
The Girls Brigade motto is « Seek, Serve, and Follow Christ ». Its aim is « To help girls become followers of the Lord Jesus Christ and through self-control, reverence, and a sense of responsibility to find true enrichment in life ». It also has three principles:
The Girls Brigade acknowledges Jesus Christ as Saviour and Lord according to the Scriptures and seeks to fulfil its aim to the glory of one God, Father, Son, and Holy Spirit;
The Brigade witnesses to the standard set by Jesus Christ and gives positive teaching on the Christian attitude to life; and
The Brigade promotes a just society where all people are equally valued.
A video of Girls Brigade For Kids
The members of the Girls Brigade show their appreciation of God's gifts by using their talents for good purpose. Look at how fun it is to be in the Girls Brigade!
Information on Girls Brigade For Kids
Is Girls Brigade for your kids?
If your daughter is of school age (age five and above), she can join your local Church?s Girls Brigade group. Let her attend the meeting every week and experience a fun and non-competitive program. The Girls Brigade uniform will also give her a sense of belonging. The leaders are good role models and are also well-trained.
The Girls Brigade program is intended to be challenging, relevant, and interactive, allowing your daughter to grow in every aspect of her life. The program follows four themes which are Spiritual, Physical, Educational, and Service. When abbreviated, these words form SPES, which is Latin for hope. Each member of the brigade is a hope for the future.
Through Girls Brigade, you can keep your daughters active in many ways. They will get to participate in kids activities, play games, go on camps, do craft and cooking projects, form a youth ministry band, and most of all learn Biblical truths. Accomplished activities for kids will be rewarded by badges or special awards. Joining the girls Brigade will also provide them with skills they can apply to their community, family, and Church life.
Most of all, your kids will get to be with other girls and do fun things together!
Girls Brigade groups are divided into four, according to age. In Australia, there are four sections or unit. Girls from 5 to 7 years old are Cadets. When they reach 8 to 11 years, they will become Juniors, 12 to 13 years old are Seniors, and Pioneers when they reach 14 to 21 years old. When they reach 15 years old, they are encouraged to attend Leadership Training Courses. As of now, Australia has 5,703 Girls Brigade organisations. You can browse our ActiveActivities Directory for more information about Girls Brigade in Australia.
Your sons can be part of youth organisations like this too! There is also a Boys Brigade which has the similar principles as the Girls Brigade. The Boys Brigade aims to develop Christian manliness through semi-military discipline and order, gymnastics, camps, and religious services. The age groups are divided into three: Anchors (5 to 7 years old), Juniors (8 to 11 years old), and Seniors (12 to 18 years old).
Help your kids develop their God-given talents! Let them contribute and bring change to the community by being good Christian leaders. Get them to join the Boys and Girls Brigade!
Life Skills
The Girls Brigade will help develop important life skills like leadership and socialisation skills.
Strong Faith
They will learn Biblical truths that they can apply to their everyday lives.
Community Participation
The Girls Brigade brings girls together for a noble cause. It encourages fellowship and inspires girls to contribute to the Church and the society.
Confidence
This youth organisation is a place where girls can be themselves. They are accepted for who they are. It is also where they can develop and practise their God-given talents.
Creativity
The Girls Brigade program has lots of activities requiring your daughter?s creative and imaginative mind.