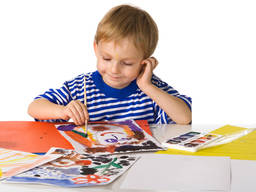 Creative kids will love messing about with paints and making their own artwork!

Painting is a popular activity for kids and adults of all ages. Fun, creative and budget friendly, painting is something kids can enjoy no matter what their age or level of skill!
A video of Painting For Kids
Let your child try painting! Easy to learn, it also develops creativity and is a great way of expression and even communication. Maybe you'll know more about your child through his paintings.
information about Painting For Kids
Is painting for your kid(s)?
Does your child dream of being the next Van Gogh? Or does he or she love getting messy and expressing an artistic and creative side? Painting may be something your kid would love to try. It is also a great way for kids to express their emotions. Painting is an easy way for kids to get involved in art from a young age and with so many different types and forms of painting, chances are they will never get bored!
Some of the potential benefits of painting as a kids activities include:
Improved co-ordination and fine motor skills
Increased focus and concentration
Relaxes kids
Encourages creativity
Fosters an interest in art and famous artists
Whether your child loves to paint portraits, pets or Australian landscapes they will probably enjoy learning different techniques and playing around with shape and colour. Kids can start finger painting from about one year old and refine their technique from there. From face painting to Aboriginal dot painting, the scope for imagination and creativity is endless!
Get your kids to start painting!
Are you looking for a formal painting class for your kids? Check out our ActiveActivities Directory for your closest local art school and see what classes they have running. Kids' painting and drawing classes usually start from preschool age and cost around $15 per session. As well as making pictures, kids will often partake in a number of craft activities and painting games designed to enhance their creativity and let them have fun.
Another great way to start is to get some arts and crafts supplies, a canvas or some big sheets of paper and let your kids experiment at home. Different things they can try include oil painting, water colours and acrylics. Make sure you cover any nearby furniture and use an old t-shirt or shirt as a painting smock to protect their clothes. On warmer days painting outdoors can be a great way to avoid paint stains on the carpet. All your kids need are a few paintbrushes, a jar of water, paints, paper and their imaginations!