Articles related to your search:
Beading - is it just fun or a learning opportunity?
While engaging in this fun activity children are also learning or further developing a number of important skills including design, hand eye co-ordination, patterning and more. This article explains each of the skills your child could learn through beading in more detail.
Read more
How to help children learn more through creativity
Our children are becoming less creative than those of a few decades ago and it could be affecting their ability to learn. Studies have shown the children's creativity tends to decrease with age. Most notably from kindergarten to grade three.<br> Using imagination and creativity is vital to children's individual mental health and this article shares how you can encourage your child to be more creative.
Read more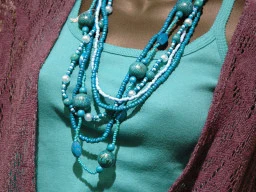 Jewellery Making Activities for Kids
If your kids like to be creative, they will love making their own jewellery!
Read more