Craft activities for kids in Tasmania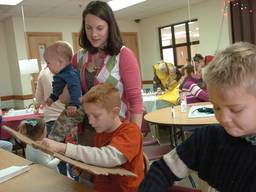 Children enjoying safe and easy to do exercises for kids.
Let your children try craft in Tasmania. There are fairs that cater to specific crafts or craft in general, in Tasmania, Australia. Let your kids exercise their skills at hand-made projects through craft in Tasmania!
Category: Arts & Crafts
Approximate age to start on cooking classes: As young as 2 yrs old
Approximate price: Free or depending on the project
Gear/equipment needed and approximate price range: Depending on the project
This activity comprises of: Drawing, cutting and gluing depending on projects
Best period of the year: Year-Round
Most appropriate region: Tasmania
School holiday programs available: YES
A video of Craft activities for kids in Tasmania
Kids trying various crafts for children during art school trip.
Information on craft in Tasmania
Why is Tasmania a great place for your kids to learn craft?
Craft is one of the more popular kids activities which lets children use their skills in doing hand-made projects. Kids love doing craft for it harnesses their creativity through projects that provide endless fun. Arts and crafts always go hand in hand, but in comparison to arts, crafts can provide better functionality along with the decorative aspect which appeals to children or even toddlers of all ages and genders. Children of all ages and genders can do craft, as long as they are old enough to listen to instructions and old enough to handle tools and materials. Looking into helping your children start doing craft? Here are some steps for parents to follow for a safe start that will provide long-lasting enjoyment:
Search for age-appropriate craft and art projects for children of all ages to do at home. Start simple. The difficulty of a craft project should depend on your children's ages. The younger your little ones are the easier your project should be. Projects that are easy to do at home also provides a bonding activity for you and your children.
Prepare and use tools and supplies that are made for children. There are child safe tools and non-toxic or hypoallergenic materials and supplies which ensures your kids stay safe even when the materials accidentally comes in contact with their eyes, mouth, and skin or even when swallowed. Some examples of supplies appropriate for kids use include extra safe and non-toxic kids glue and plastic glitter to name a few.
Learn what your children are into. Most likely, your children will enjoy projects that interest them. Look into your children's interests and search for projects that are based on their interests. You can't start taking your children to pottery classes, or origami classes without your children giving even a hint of interest in the activity.
Find time to do craft with your children. Even with a slew or array of activities and projects lined up for your children, it would not be as fun if the parents aren't there to guide them through each step. Although there are art schools and art teachers who offer the same guidance, it is different from spending time with the children and creating a better family bond.
Get your kids to start craft!
Are you looking for places where your kids can do craft? It is easy to get your kids into craft in Tasmania. You can look into a Tasmanian craft fair or you can also visit a Tasmanian craft market for various supplies and inspiration for your kids' future craft projects and activities to enjoy. For a more convenient and complete collection, a craft shop also provides craft products within their catalogue, is open during the week, and is easily accessible. There are also art shows in Tasmania which provide visual delight along with pouring inspiration for kids and the family, and entrance is usually free. One of the newest ventures getting attention are art cafes in Tasmania, where everyone can be an artist while immersing in a lasting dining experience. Most art cafes allow children, letting your little masters enjoy the ambiance while exercising their creativity with the available projects.
Other than fun and enjoyment what are some of the benefits of doing craft? Kids crafts provide hours of fun for both the parents and the children. There are tonnes of crafts for kids to start and enjoy. Craft provides kids with an output to help them manage free time. Some of the benefits of doing craft includes:
Sharper thinking and overall intelligence
Better concentration, enhanced attention span
Improved problem solving skills and builds better self-esteem
Doing craft lets kids learn while having fun. Children of all ages, even toddlers can enjoy activities for kids that can help develop motor skills and other various traits needed in life. It also nurtures your children's creativity. To start on crafts in Tasmania, visit our ActiveActivities directory for more tips, as well as other kids activities that will surely keep your children busy with endless fun.
Let your kids engage through various learning styles, start on doing craft in Tasmania!