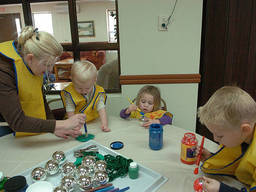 The arts is a tool for creative expression. At a young age, kids have a tendency to be shy and intimidated by elders, making them hesitant to say what they want to say. Being naturally creative, they can more freely express themselves through drawings, pictures, and other forms of art. Activities for the family should always involve arts activities for kids. Not only will they serve as fun and productive activities that bring the family together, but will also promote positive attitudes in kids. Expose them to the arts at an early age!
A video of Arts for kids in sydney
The Sydney Royal Easter Show has a country-meets-city vibe! The festival provides lots of cool rides and shows for the whole family. Lots of art activities too!
Information on Arts for kids in Sydney
Why arts in Sydney is a great activity for your kids?
The cultural in Sydney is dynamic and diverse. Its cultural and historical sites such as museums and art galleries are internationally known. Most art exhibitions in Sydney emphasise on contemporary art since the city is full of thriving contemporary artists. Sydney is also home to famous cultural institutions.
Art Gallery of New South Wales
Museum of Contemporary Art
Museum of Sydney
Sydney Opera House
Arts events in Sydney are also considered as some of the largest social and cultural events in Australia. The festivals and events are some of the most interesting and entertaining activities for kids in Sydney.
Sydney Festival
Big Day Out
Sculpture by the Sea
Sydney Royal Easter Show
Exposing your kids to the arts in Sydney may inspire them and trigger their passion for the starting painting, drawing or who knows what artistic activity! Sydney offers some good kids art schools that teach the different forms of arts. Schools for performing arts are for kids who like being under the spotlight; there are also schools of music in Sydney for the musically inclined kids, and arts and crafts classes for kids with creative hands. To find out the available schools and classes that cater to your kids artistic needs in Sydney, feel free to browse our ActiveActivities Directory. We also have a few recommendations of some of the most interesting, fun, and educational kids activities in Sydney.
The arts is essential to the kids early learning. Sydney is the ideal place to introduce arts to your kids. Spend a family day in Sydney and see how the arts can affect your kids positively!
Articles related to your search: