Art activities for kids in the Perth region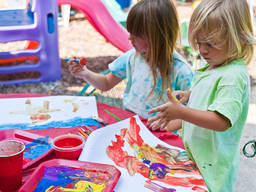 Develop your child's creativity by letting them paint!
Art can refer to anything that is a product of imagination and creativity. It can be drawing, painting, or arts and crafts activities like pottery. Art is not just limited to the things that can be created by the hands. Music, dancing, and the performing arts are also products of the arts. With all these variety of means, it won?t be hard to channel your children?s energy to art activities!
A video of Art activities for kids in the Perth region
A video of the opening ceremonies of the Perth International Arts Festival
Information on Art activities for kids in the Perth region
Why is the Perth region a great place for art activities for kids?
Art activities are effective tools for creative expression. Kids tend to get intimidated by adults, making it hard for them to speak out. Some kids can be shy, too. They are naturally imaginative, so why not let them express their feelings through something they do best? That is why most preschools and kindergartens make sure that there are art activities for kids in almost every class they hold. Art is also a way to make everything fun and interesting for the toddlers.
Keeping kids busy is not an easy task. Kids activities should always need to be entertaining and engaging. Living in Perth, or spending the weekend in the region? There are many art activities for kids in the Perth region that suits every age. They are very affordable, and some are even free.
Art Galleries
For kids to get fascinated with art there are no better places to introduce them to it other than by visiting the art galleries for kids in Perth.

Fremantle Arts Centre
The Fremantle Arts Centre showcases the artworks of the talented artists of Western Australia. Your kid?s work could be featured there too! The centre also features musical performances and live theatre programmes during the summer. There are also other facilities including a tearoom, bookshop, and a garden.
Art Gallery of Western Australia
Western Australia?s principal public art gallery houses over 15,500 artworks. Its collections range from Indian and Asian craft work, to European artworks and copies of English art. It also features one of the finest indigenous traditional and contemporary arts from the Northern Territory and Western Australia. Free guided tours are available.




Art Events
Perth gives value to the arts through different festivals and events.

Perth International Arts Festival
Australia?s longest running cultural festival, the Perth International Arts Festival is held annually from February to March. Bring your kids to the festival and expose them to Australia?s as well as some of the world?s finest talents in various fields of art. The festival features contemporary and classical music, dance, theatre, opera, and visual arts.
Perth Winter Arts Festival
The Perth Winter Arts Festival can keep your kids entertained all winter long. Running from June to August, the festival offers lots of Australian art activities for children including theatre, art exhibitions, comedy, dance, ballet, concerts, free film viewing, and lots of other free events for the whole family.
Fremantle Street Arts Festival
The Fremantle Street Arts Festival is something to visit during the Easter. The festival offers lots of fun events and art activities for kids such as showcasing talented entertainers form around the world.




Free Art Activities
Other than art galleries and events for kids, Perth also provides lots of art activities for kids that they can enjoy anytime and are for free. Check out the libraries! Many libraries have sessions for babies and toddlers that include activities like storytelling. Nursery rhymes, and arts and crafts activities. Check our ActiveActivities directory to find libraries in Perth with free activities for kids.



Aboriginal Art
Art reflects culture. It is important for kids to know about the culture of Australia as well as the culture of the aborigines. Get to know aboriginal culture through their art. All around the Perth region are cafes and shops that have aboriginal art galleries. You can even watch some aboriginal artists on the spot. They also have workshops for aboriginal art for kids, and of course a visit to Perth is not complete without learning the didgeridoo. Aboriginal art galleries offer free lessons on the basics of how to play the didgeridoo.



Art Classes
Need help in improving your children?s art skills? Enrol them to art schools for kids in Perth. Art schools have a safe and friendly environment where kids can learn while playing. Our ActiveActivities directory has a complete list of art schools located in the Perth region.
Art activities are important to children?s early learning. Get them involved with the arts and see how it affects them positively!
Articles related to your search: