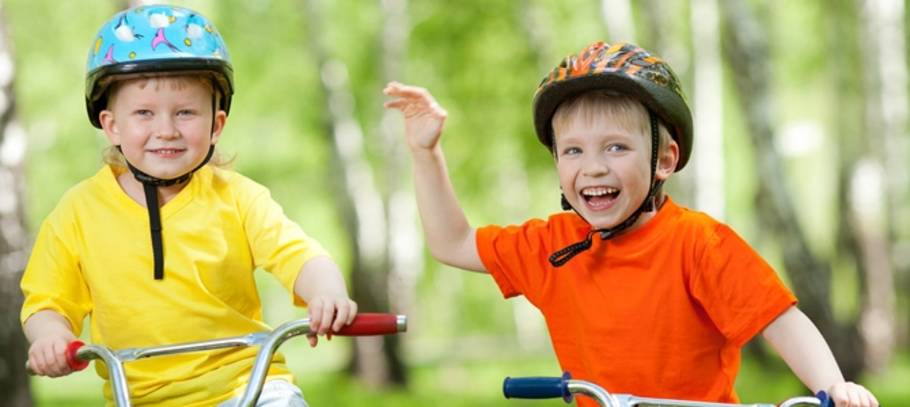 We have a big backyard, and our kids learnt to ride their bikes in it. Not everyone has this luxury, although it doesn't mean your kids can't cycle or be safe doing it! It's simply an activity that requires a few pointers before your youngsters head off with their friends for the day.
What will my kids need to be safe riding their bikes?
One must-have addition to every bike (compulsory by law in some Australian states) is a red backlight, and a white headlight for your child's bike. These are for afternoons and night, when visibility gets difficult.
A bell is also great to warn pedestrians that a cyclist is approaching.
All cyclists need a good quality helmet too. But this is not the most important protection– it's the brains inside your angel's noggin that is the real tool! Teach your kids how to ride with good judgement , and they'll be prepared to ride without injury very quickly.
Why is bike safety so important?
According to the Western Australian Child Accident Prevention Foundation of Australia, hundreds of kids are admitted to hospital every year for bike-related injuries that have taken place on public roads. That's a clear indication that we must teach our kids about this sport which they may not realise is potentially dangerous.
Also so your kids don't get stranded on a long ride, teach them basic maintenance like how to fix a punctured tyre, broken chains and using gears.
What is the best way to teach my kids cycle safety?
Like most things, doing it yourself in front of them the best way. It's also one of those great kids activities you can do to get yourself fit at the same time!
Take your kids for rides in the park and then have a family picnic. It's a great way to mix family social time, fun and fitness.
You can progress to more serious rides that include some roads once they've mastered the basics. Ride alongside your kids until you're confident they will be safe and responsible on their own.
Check the ActiveActivities directory for a list of bike centres where your kids can learn even more!
Claire Drundree
Claire, a hands on mother with two young girls and a baby boy, has been blogging for 2 years. Having grown up in an artistic family, Claire is delighted that her daughters have inherited her creative streak. Painting, drawing, and pottery are regular activities in the Drundree's Perth home, which also includes Claire's very patient husband. Claire understands not all mothers have as much time with their children as she does, and hopes her blogging can help busy mums find quick and easy ways to get creative with their kids.