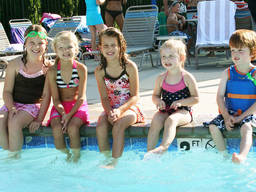 Fun under the sun!
Swimming is a favourite activity among kids, especially during the summer season. Swimming pools for kids take away the summer boredom and keep them entertained while playing in the cool water during the hot days. Australians are known as world renowned swimmers. Australia builds more swimming pools than any other country in the world; and as of 2007, 11.7% of the homes in Australia have pools in their backyard. Are you part of the 11.7%, or do you want to be a part of it? Swimming is one of the most enjoyable things to do with kids!
Category: venues, sports, entertainment, holidays
Approximate age to start with swimming pools: starting infancy
Approximate price: $11 - $10,000 for your own swimming pool; around $5 for an entrance ticket to a public swimming pool; around $20 - $60 for an entrance ticket to a private water park.
Gear/equipment needed and approximate price range: air pump, pool toys, swimsuits, floaters, fins, sunblock from $11
This activity comprises of: swimming, water polo, water games
Best period of the year: summer for outside, indoor public pools for the rest of the year
School holiday programs available: YES
A video of Swimming pools for kids
When in the swimming pool, kids should follow some swimming pool etiquette for their own safety, as well as for the safety of other kids in the pool.
Information on swimming pools for kids
Are swimming pools great for your kids?
Swimming pools for kids are great sources of both fun and exercise. Outdoor play is important for kids to grow up active and healthy. During the summer, children might not want to go out because it is too hot outside. With swimming pools for kids, you can keep your toddlers active and busy in the safety of your own backyard.
Deciding to build or buy a swimming pool for your kids? The things to consider are your budget, the space you have, and the age of your children. Here are some of the options for the best swimming pools for kids.
Inflatable
Inflatable pools are one of the most ideal swimming pools for kids as they are less expensive and are very easy to set up as well as to pack up. Just get the pool inflated with an air pump, fill it with water and your kids are ready to jump in. Inflatable pools are good when you want to move the pool. You can buy them in toy stores and swim shops and they come in different sizes to fit your space. They cost from around $11 to $300. When you buy the pool, they come in a complete package that is ready to install. Large inflatable pools sometimes come with pool supplies like mini water slides and sprinklers.
In-ground
In-ground pools are ideal if you want to have a pool permanently set up and also if you have a big space in your yard. Building an in-ground pool can cost a lot and they also take a lot longer to install. You will also need to have some people that will be in charge of the designing the pool, digging the hole, and laying of the pipes. In-ground pools are large enough for kids who already know how to swim or need to practise. Children can also do a lot of kids activities like water games or playing with pool toys.
Above-ground
Above ground pools can be made of metal, vinyl, fiberglass, or hard plastic. They cost much less than in-ground pools and are easier to install. They come with a complete pool kit that you can set up and use in just a few hours.
Plastic
The water level in hard, plastic pools is less than 1 foot deep, ideal for babies and very young toddlers. Plastic pools are easy to install and can be set up on the grass or concrete.
Get your kids into the swimming pool!
When buying or building a swimming pool for your kids, it is important that they know how to swim. It was reported that drowning is one of the major causes of accidents and deaths in children. Enrol them to swimming lessons! In these lessons they are taught how to swim and also other skills like proper breathing and safety measures and things to remember before, during, and after swimming. They are also perfect activities for kids during the school holidays. Swimming lessons are offered in swimming clubs for kids, in sports and recreation centres, as well as to some aquatic centres. You can find the nearest available swimming lessons in our ActiveActivities Directory.
If you are looking more fun activities for kids, there are also lots of recreation centres in Australia including aquatic centres and waterparks that have outdoor swimming pools and indoor swimming pools, as well as fun water slides, rides, and toys. Choose the centres that have safety pool fences and lifeguards. Also, make sure to always keep watch of the children while in the pool or near the pool.
Visit our ActiveActivities directory for more the most popular waterparks and aquatic centres in Australia.
When the summer is coming near, many parents start shopping for pools their kids can enjoy. Choose the right one that suits your budget and the available space in your yard, as well as the age and swimming ability of your kid. With so many styles, sizes, and features to choose from, backyard swimming pools for kids can be a great investment!
Articles related to your search: