Pirate Parties and Activities for Kids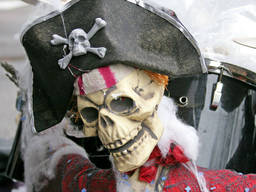 Kids who love to dress up might enjoy a pirate themed birthday party.
Thanks to Captain Feathersword, pirate parties and pirate costumes are more popular than ever, particularly among 3-5 year olds.
Grab your pirate patch and join in the fun!
A video of Pirate Parties and Activities for Kids
Treasure Hunt is a great kids party game to play to pass the time.
Information on Pirate Parties and Activities for Kids in Australia
Will Your Kids Enjoy Pirate Parties and Activities?
Does your son insist on wearing his pirate costume to the supermarket? He would probably love a boys birthday party with a pirate theme. Pirate parties can be great for children who enjoy dressing up and want to have fun.
As well as having an excuse to play dress ups, pirate parties can include treasure hunts, treasure chests, skull and cross bone decorations and pirate themed activities for kids to enjoy.
Not sure if your child is old enough for a pirate party? If your child is very young the idea of pirates might be a bit confusing to them. Pre-schoolers who have seen pirates on TV and who may have done other pirate based kids' activities will probably get right into it. Pirates are most popular with boys but girls can enjoy pirate parties too - don't forget most pirate adventures involve princesses somewhere along the way.
Worried on over-zealous sword fights and the resulting injuries? You can always take a leaf out of Captain Feathersword's book and provide your guests with tickling feathers instead of pirate swords.
Should You Arrange Pirate Parties and Activities for Kids at Your Next Kids' Party?
Do you want to try a pirate party but aren't sure what to do? As with most kids' activities and events, pirate parties take some organisation but the resulting fun may be well worth it. Some parents hire a professional pirate to entertain the children - this will usually cost around $200 an hour but if you're on a budget, there are plenty of cheaper options for birthdays with a pirate flavour, including:
Pirate-themed kids party games like treasure hunts and musical islands;
Pirate-themed invitations and party bags;
Pirate arts and crafts such as making your own pirate telescope, eye patch or parrot;
Pirate themed food including a pirate ship cake (complete with sails)
Do you want to throw a pirate party but don't have time to make everything from scratch? Check out your local $2 shop for pirate party plates and cheap pirate accessories. These are great for filling up the guests party bags and for pirate themed prize ideas.
With a bit of creativity and some careful planning, you can have your very own backyard full of pirates and hopefully a memorable birthday for your child!