Arts & Crafts Activities for Kids in Sydney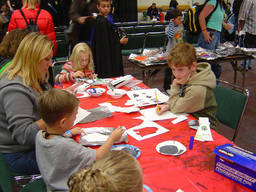 Kids, being naturally creative, best express themselves through art. Kids art mostly involve arts and crafts activities for kids, such as creating art with their hands. Some basic arts and crafts activities for kids include creating homemade products, such as paper collages, origami, papier-mâché, scrapbooking, painting, and colouring. Arts and crafts activities are fun and educational activities. It is also a great way to spend time with them!
A video of Arts & Crafts Activities for Kids in Sydney
The Rocks Markets in Sydney is a great place to take your kids to see some unique arts and crafts products made by talented local artists.
Information on Arts & Crafts Activities for Kids in Sydney
Why arts and crafts activities in Sydney are great activities for your kids?
Want to encourage your kids to take part in arts and crafts activities? As a centre of cultural diversity, you can take your kids to arts and crafts galleries, museums, and exhibition venues for kids in Sydney to inspire them. There are also a lot of markets in Sydney where you can buy art supplies and handmade crafts for children. Some of the most interesting forms of arts and crafts in Sydney are the authentic aboriginal/indigenous arts and crafts like traditional paintings, rock arts, and handicrafts.
Museums and Galleries:
Art Gallery of New South Wales
The Art Gallery of NSW is the fourth largest gallery in Australia and the most significant in Sydney. It is a public gallery which displays extensive collections of Australian, Asian, and European art. Free guided tours are available daily. They also have tours specialised for the kids.


Museum of Contemporary Art
The Museum of Contemporary Art, or MCA, exhibits contemporary artworks from Australia and around the world. The museum offers exciting arts and crafts activities and other kids activities that are fun and educational. They have events for the whole family: interactive programs for toddlers, workshops for school-aged kids, and free monthly family activities. MCA also gives out free activity journals filled with writing and drawing activities for kids.


Museum of Sydney
The Museum of Sydney displays objects, pictures, and other new digital media techniques that explore colonial and contemporary Sydney – its people, places, and cultures. This is a great place to bring your kids to make them fully understand the history of Sydney.


Powerhouse Museum
The Powerhouse Museum is a branch of the Museum of Applied Arts and Sciences. The museum has a diverse collection of almost all sorts of technology including science, space, transport, social history, and decorative arts and design. Its key attractions include the oldest operational rotative steam engine in the world, the first steam locomotive to operate in NSW, and The Strasburg Clock Model. The Powerhouse Museum is the most kid-friendly museum in Sydney. They have interactive demonstrations and play areas, including Zoe's House, The Magic Garden, and a state-of-the-art outdoor play area, Cogs' Playground.
Arts and Crafts Markets:
Campbelltown Craft Society
The Campbelltown Arts and Crafts Society is a local group that sells quality handmade products created by members. They make baby apparel, paintings, pottery, jams and preserves, patchwork, cottage crafts, teddy bears, and soft toys. If your kids are arts and crafts enthusiasts, this might be a great place to buy the perfect gift for them.


The Rocks
The Rocks is a very popular tourist destination. The Rocks markets feature a selection of souvenir and arts and crafts shops, mostly selling traditional handicrafts with cutting edge design.


Glebe Markets
With around 200 stalls, Glebe Markets almost have everything you're looking for, from jewellery, original design clothing, to arts and crafts created by local artists and stall owners. This is also a place where you can also discover rare finds and second hands goods like vintage wears, records, and arts and crafts.


Eveleigh Artisans' Market
The Eveleigh Artisans' Market showcases contemporary, independent NSW artists and designers. You can walk through over 75 stalls of ceramics, sculpture, fashion, jewellery, textiles, arts and crafts, and children's designs, to name a few.
If you would like to bring your kids to arts and culture festivals in Sydney, the most preferable time is during the summer, when most Sydney arts and cultural events happen. But you and your kids can experience the arts and culture scene, and participate in arts and crafts activities in Sydney all year round.
Sydney Royal Easter Show
One way to experience Australia's finest is by attending the Sydney Royal Easter Show. The Show celebrates everything Australian – from international rodeos, street parades, arts and crafts, to the best Australian cuisines. The Sydney Royal Easter Show attracts about 900,000 people, making it one of the largest annual events in Australia.


Sydney Festival
The Sydney Festival is a major arts festival in Sydney that defines the city's character. The festival program features more than 100 free and ticketed outdoor and indoor events from local and international artists from various fields, including music, dance, performing arts, dance, and traditional indigenous arts.


Sculpture by the Sea
Sculpture by the Sea is a free outdoor sculpture exhibition featuring sculptures made by Australian and international artists. This annual event is held in Bondi Beach. Every year, the beach is transformed into a seaside sculpture gallery with over 100 sculptures displayed along the coastal walk.
Going to all these galleries, museums, and shops that showcase the best Australian arts and crafts talents might motivate your kids to try out the hobby. There are arts and crafts classes in Sydney that will nurture their imagination and creativity. Arts and crafts classes and workshops can also help minimise your kid's idle time in an educational and child-focused environment. Our ActiveActivities Directory offers a list of arts classes in Sydney that you can check out.
If you are looking for other cities where your kids can also learn about Australian arts and crafts, you can take them to Melbourne. Melbourne is referred to as the Cultural Capital of Australia. It is home to Australia's largest museum, the Melbourne Museum.
If you and your family are in Sydney, make sure to explore the city's arts and crafts diversities, from aboriginal to contemporary art. Your kids will surely enjoy and learn a lot!
Articles related to your search: