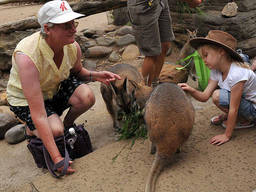 For a fun and educational day out for the whole family, why not try one of the zoos in Sydney?
Zoos are a popular family favourite throughout Australia. The zoos in Sydney are some of the best in the world and whether you are a local or a visitor looking for things to do in Sydney, they are well worth a visit!
A video of Zoos For Kids In Sydney
Located on the coast of Sydney Harbour, Taronga Zoo has more than 350 different species of animals. Zoos are amazing places for learning! Your kids can also get real close to some of the animals.
Information On Zoos For Kids In Sydney
Are zoos in Sydney for your kid(s)?
Do your kids love animals? If they are interested in wildlife and like learning about different animals from around the world they will probably love visiting the zoos in Sydney. As well as providing plenty for kids to look at, zoos in Sydney usually offer a large number of activities for kids which are designed to educate them in fun, hands on ways. Some of the benefits of visiting these zoos include:
A chance to see some of the largest collections of animals and marine life in Australia.
Taronga zoo and the Sydney aquarium are both located in the heart of Sydney with easy access for families via public transport.
Develops an interest in the natural world and ecosystems and can help kids to understand the importance of taking care of their environment, particularly local marine wildlife that is specific to NSW.
Zoos are fun and entertaining to visit and with a family pass, can be an extremely affordable kids activity. The proximity of the zoo to Sydney harbour means that a visit can easily be tied in with other sightseeing activities if time is limited.
Taronga zoo in particular has a number of fantastic picnic spots with views over Sydney harbour and the Opera House.
If your kids love exploring the zoos in Sydney they might also like wildlife parks, reptile parks and the Sydney aquarium. Kids who are a little scared at the zoo might prefer the watery serenity of the aquarium! Zoos in Sydney are great for kids of any age. Most are stroller friendly so it is easy to bring your baby, and the bigger zoos, such as Taronga zoo have baby change facilities and plenty of options for food on site.
Zoos in Sydney are huge and it is easy to get lost. When you get there make sure you get a map and pre-arrange a meeting point in case anybody gets separated. Keep an eye on kids at all times.
Get your kids to zoos in Sydney!
Not sure how to get to the zoos in Sydney? Check out our ActiveActivities Directory for locations and details of kids activities involving wildlife, zoos and aquariums. Most zoos in Sydney are open all year round although they can get very busy during peak tourist times and school holidays. Costs vary from around $20-$40 per person although discounts are often available for holidays and large groups. If you live in the area, buying a season ticket can be a great way to save money on admission to zoos in Sydney.
Whether you are fascinated by exotic sea creatures or local wildlife, Sydney has much to offer by way of zoos and other natural museums. Go wild with your kids this weekend ? head for a Sydney zoo!
Articles related to your search: