What is Rhee Tae Kwon Do?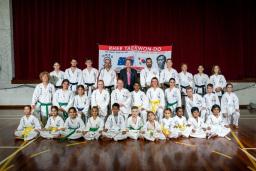 Approximately 1400 years ago, during the Sila Dynasty in Korea, an ancient form of unarmed combat, known in those day as Tae-Kyon, evolved. The ancient art of Tae-Kyon is now widely dispersed throughout the world and is known Tae Kwon Do.
The definition of Rhee Tae Kwon Do involves the dynamic techniques of unarmed combat for self-defensive purposes, combining the skilled application of powerful punches, flying kicks, blocks, dodges, and interceptions. The Rhee Tae Kwon Do practitioner uses well trained hands, arms, and feet to affect the rapid destruction of any attacker.
Rhee Tae Kwon Do is most assuredly a dynamic and extremely effective martial art, more valid in the violent times we live in than ever before. But the art reaches much further than mere combat effectiveness. The discipline, mental training, and varied techniques of Rhee Tae Kwon Do also provide the ground for engendering in the practitioner a strong sense of justice, fortitude, compassion, humility, and resolve. It is this vital mental conditioning that separates the true practitioner from one who mastered only the physical aspects of the Art.
Expertly taught by qualified instructors, regular practice of Rhee Tae kwon Do ensures limitless benefits for a fulfilling way of life. These include:
Fitness and total Health
Effective self-defence
Honour and loyalty.
Self-control
Self-discipline.
Self-knowledge.
Self-confidence.
Perseverance.
Integrity.
Courtesy.
Indomitable spirit.
Exhibiting the vibrant energy that typified this dynamic art, Rhee Tae Kwon Do continues to expand dramatically, and positively grow through these turbulent times.
Articles related to your search: