Articles related to your search:
How to help your child overcome stage fright
How are you meant to make your child feel comfortable on stage? They love performing but the fear can be overwhelming. It can be really scary being so small and in front of a big audience! These simple strategies include assisting with preparation, affirmations and dealing with those dreaded butterflies in the belly - find out how you can work with your child (or students) to move them beyond the fear.
Read more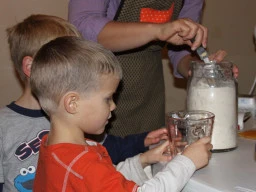 Cooking classes for kids in Melbourne
Give your children a better start in life. Enrol them to cooking classes in Melbourne! While children can be quite picky with what they eat, they can develop quite an appetite for good homemade food. One of the easiest ways to help children eat better along with developing skills valuable in life is getting started with cooking classes. Children can now learn first hand through kids activities that aim make mouth-watering dishes even at an early age. Start enrolling your children to cooking classes in Melbourne!
Read more