Articles related to your search: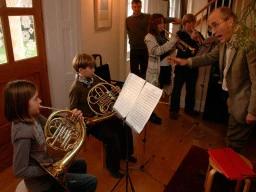 French horn for kids
Get your kids to play tantalizing sounds on the French horn! The modern orchestral brass French horn originated from early hunting horns and was only used as a musical instrument starting the 16th century. It slowly grew popular in orchestras after musicians began using the French horn as an instrument. Let your kids stand out with this instrument!
Read more
Tips to encourage your child to practice playing a musical instrument
It never ceases to amaze me how much difficulty some parents find in encouraging their child to practice playing a musical instrument. Very few younger aged students will practice of their own volition. Not many five year old kids will say to their parents "Now please excuse me, I am about to head into my room to practice the piano for the next hour or two". However, we have found that the more actively parents are involved, the more the child will feel there is a reason to practice.
Read more