Articles related to your search:
Accordion teachers
Get your kids to play folk tunes on the accordion! The modern version of the accordion is played by compressing or expanding the instruments bellows while pressing buttons or keys, causing valves (pallets) to open, allowing air to flow across strips of brass or steel. For fun and quirky kids, the accordion is the perfect instrument!
Read more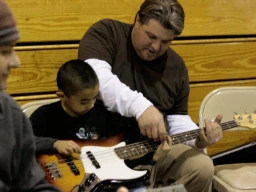 Bass guitar for kids in Perth
Encourage your children to learn new activities for kids by coaxing them to play the bass guitar while they are young! Playing bass guitar in Perth is not a challenge as there are many venues offering bass guitar lessons that your children can attend. Enrol your children to music schools in Perth and introduce music into their lives!
Read more