Articles related to your search:
Accordion teachers
Get your kids to play folk tunes on the accordion! The modern version of the accordion is played by compressing or expanding the instruments bellows while pressing buttons or keys, causing valves (pallets) to open, allowing air to flow across strips of brass or steel. For fun and quirky kids, the accordion is the perfect instrument!
Read more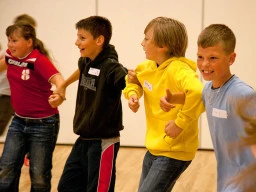 Drama classes & lessons for kids in Melbourne
Express your love for your kids' expressions! Drama originated from Greece where tragedy and comedy were popular. It is often combined with music and dance. Today, drama encompasses different mediums - from theatre to radio. Enroll them to drama classes & lessons for kids in Melbourne, and see your little superstar shine on and off stage!
Read more