Articles related to your search:
How to help your child overcome stage fright
How are you meant to make your child feel comfortable on stage? They love performing but the fear can be overwhelming. It can be really scary being so small and in front of a big audience! These simple strategies include assisting with preparation, affirmations and dealing with those dreaded butterflies in the belly - find out how you can work with your child (or students) to move them beyond the fear.
Read more
The importance of poetry in your child's life
World Poetry Day was hosted globally on Tuesday, 21 March and it's a good opportunity to talk about the important role poetry plays in child development.
Read more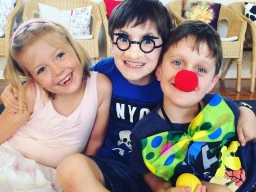 Three Reasons to attend a Drama camp
Every holidays, a myriad of workshops and camps pop up, providing students with opportunities to extend their skills and talent outside of the school setting. Drama camps are a great place for students to explore their creativity and build their self-confidence in a relaxed, friendly and fun environment.
Read more
Drama classes & lessons for kids
Put your kids under the spotlight! . To keep them busy and entertained, we get them engaged in activities for kids that combines both being active and being creative; and also in a way that their peers and the adults will appreciate them. Why not let them take their chances on the performing arts?
Read more