Articles related to your search: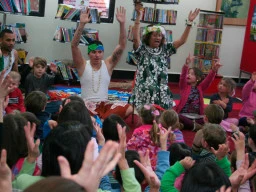 Cultural Dancing Classes & Lessons for kids
Learn about different cultures through dancing! Exploring the world of dance through cultural dancing can help them gain awareness of the different cultures in the world. Enrol your kids to cultural dancing classes and lessons!
Read more
4 reasons hip hop dancers should take a ballet class
I was a self proclaimed "anti-ballerina", leotards and tights made me feel self-conscious and I was often heard telling people "I wasn't built for ballet." No, I didn't (and still don't) have amazing feet or great turn out and I'm not super flexible. Nor do I possess any of the ideal physical traits of your stereotypical ballerina.<br> But, I have a new mantra now. "Nobody was built for ballet. Ballet was built for us."<br> This is a first-hand account explaining exactly how ballet can improve your child's hip hop performance.
Read more