Planning a party - get the best entertainment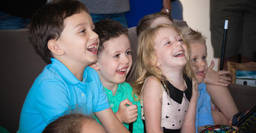 There are many areas you need to consider when planning a party, and almost every area feeds into the entertainment you choose. The duration of the party needs to allow for set up and set down of entertainment; deciding whether it's an afternoon or morning party – and where it will be held - at home, at a venue or in a park.

Kids parties only go for a couple of hours
I have been asked many times how a party works time wise, generally it will last 2 hours, say from 10 am to 12 noon or 2 pm to 4 pm on a Saturday or a Sunday. Sometimes even Friday afternoon after school!
Entertainers generally arrive at the time the invitation states, and may take up to 30 minutes to set up and meet and greet the children as they arrive. It's important to know how long the entertainment will run for and share the order of events for the day with them to see if they can help things run a bit more smoothly for you and your child. For example, as a magician, my show runs for 45 minutes and then I can twist balloons for the kids while they wait to cut the cake - or help with games and piñatas.
It takes the same amount of time to pack up as it does to prepare for the show, so allow another 30 minutes for this. One entertainer is more than enough for the kids, so you can save money on jumping castles and face painters.
MOST IMPORTANT: The best entertainment books out months in advance! Avoid disappointment by booking the entertainment for your party as far in advance as possible.
Morning versus an afternoon party
There are pros and cons for both options and parents generally choose what suits them best. Here are a few things to consider:
Some parents worry about children having conflicting activities on a Saturday morning (such as school sport) and therefore will hold the party in the afternoon. If the birthday child is involved in Saturday morning activities, their close friends may be there too, so perhaps an afternoon party may be more suitable. Similarly, some families go to church on Sunday, and some parents like to use this time to prepare for an afternoon party.
Alternatively, if your child and their friends are not so sporty - or it's not the season to play their preferred sport, a morning party may be perfect. As an entertainer, I do just as many morning shows as afternoon shows, it just depends on the family's preferences. The best thing about having a morning party is that some parents then like to organise a family-gathering in the afternoon.
Afternoon shows allow families to spend time together in the morning, drop their child to the party and go and do some shopping or pursuit for a few hours before they return.
Plan your party around what suits you as a mum, not every child you invite will be able to attend. Check their best friends can make it and organise the rest around you. You cannot please everybody every time!
Party location: at home (inside or outside), at a venue or at a park?
If you decide to have your party at a park, it will limit the entertainment you may be able to reach. Many magicians have had a bad experience performing in parks – for example: a rabbit ran away, it rained, wind blew props away, balloons pop on the grass, children are easily distracted, and the list goes on.
On the other hand, parks are popular to host kids parties because your house doesn't get dirty, children can let their hair down and it's cheap!
As a magician – these would be the best venues to host your party in order of preference:
A community centre/scout hall etc.
A home
A covered back patio, or clean garage
A backyard under cover
A backyard (no cover)
A park.
There are a few positives for home/venue parties, for example: anything indoors is a controlled environment for an entertainer to perform their best! It's weather proof, fool proof, rabbit proof, prop proof and best of all - the children will be able to concentrate on the show, which is why we are booked in the first place.
Not eating or drinking during entertainment
It's recommended that you resist feeding the children while they are being entertained. Drinks spill, children cannot clap with food in their hands, and it causes interruptions to the performer's routine and the show loses momentum, resulting in a weak performance.
Save food and drinks for before and after the show.
No talking during the show
Parents are encouraged to watch the show as much as the children – it creates the perfect setting to perform in. If parents are talking behind children during a performance it can distract the performer and the audience. If it is necessary to talk during a performance, please do it quietly in another room where you can't be heard.
Please contact the contributor of this article for more party planning hints and tips when considering your entertainment!
Articles related to your search: