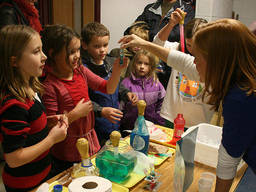 Explore, experiment, discover.
Your child can learn about the fascinating world around them with science clubs!
Science clubs are a fun and enjoyable way for kids to learn about science through hands on experience. Whether run by large organisations such as the CSIRO or smaller after school groups, science clubs can be fabulous for any child who has an enquiring mind and is eager to learn!
A video of Science Clubs For Kids
Science clubs helps kids explore, discover, and learn the mysteries around them. They are also great places to stimulate creativity through experiments and inventions. What's more fun is that kids can use things that can be found at home for their experiments.
Information on Science Clubs For Kids
Are science clubs for your kid(s)?
Is your child a budding Albert Einstein? Are they always asking questions about science facts that you can never answer? If they love to perform experiments at home or are eager to get answers about anything related to science, they will probably love meeting other kids with the same interests at science clubs. Science clubs give kids the opportunity to learn about a wide range of subjects including:
Biology
Physics
Astronomy and space
The environment
Chemistry
Nature and wildlife
Science clubs often offer a varied range of activities for kids including research projects, competitions, debates and visits to museums. As well as being a great way to explore science for kids, science clubs have many benefits including:
Educational - can help kids learn more about science and improve their academic grades
Social - a great way for kids to make friends and meet others
Fun - kids' science clubs teach kids about science in a fun and hands on way which is more interesting than reading science books
Stimulating - science clubs can stimulate an interest in the world and nature
Most science clubs are aimed at school aged children but if you want to give your pre-schooler or baby a taste for the scientific, why not take them to a science museum and let them have a play around? Most science centres have plenty of hands on activities for children of all ages which can be a fun and educational way to spend an afternoon.
Is your child keen on getting outdoors? Instead of science clubs they might prefer nature clubs where they can learn about Australian wildlife and the environment and get involved in outdoor activities.
Get your kids to start science clubs!
Are you looking for science based kids activities? Science clubs can be run as school science clubs, after school science clubs or at science centres. Many science museums or observatories run science clubs activities during the school holidays which could be a great way for your young science fanatic to make new friends and stave off boredom. Take a look at our ActiveActivities Directory for suggestions on where to start. Who knows, maybe your child could win a Nobel Prize one day!
Articles related to your search: