Outdoor Education For Kids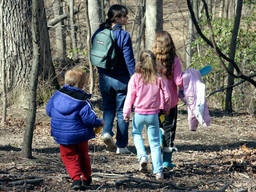 Let your kids reconnect with nature and learn without limits!
Nowadays, kids tend to just stay at home and play computer games or watch the television when they are not in school. Health experts suggest that kids should have active lifestyles for them to be healthy and have a positive outlook in life. A great way to get your kids outside, learn, and have a good time is through outdoor education. They can learn so much more outside the four walls of their classroom!
Outdoor education refers to organised learning that takes place outdoors. It can also be called outdoor learning. It draws upon the philosophy, theory, and practises of experiential learning and environmental education for kids. Outdoor education programs sometimes take place in the form of field trips, excursions, and camps. They involve outdoor education activities for kids, like hiking, climbing, canoeing, outdoor games, and other fun activities for kids. Australia is known for its outback which makes it ideal for outdoor education activities.
A video of Outdoor Education For Kids
Kids learn better through experience. Outdoor education brings alive the things that kids learn from books.
Information on Outdoor Education for Kids
Is outdoor education for your kids?
If your kids are the adventurous type, then outdoor education is for them. It can actually be suggested for all kids because the outdoors is a great venue for kids to stimulate their natural curiosity. Outdoor education spans the three domains of self, others, and the natural world, as it aims to:
Teach outdoor survival skills
Develop problem solving skills
Promote teamwork
Develop leadership skills
Encourage understanding of our environment and become good stewards of it
Promote spirituality
Outdoor education provides benefits that can mould kids into better persons and better decision makers of the future.
Personal and social development
A study conducted in 2005 revealed that kids who participated in outdoor education programs showed improvements on discipline, self-esteem, cooperation, leadership, and relationship with other people.
Deeper relationship with nature
Outdoor education will help kids develop environmental awareness and appreciation. They will get to learn the importance of nature, threats to the environment, and the consequences of not taking care of it. They will learn to take nothing but memories, and leave nothing but footprints.
Life skills
Experiential learning can sometimes be more effective than theoretical learning. Kids will actually get to apply everything they have learned in the classroom to the situations they will encounter outdoors. Outdoor education also lets them deal with real-world problems.
Some parents might not allow their kids to participate in outdoor education trips and camps as they worry about their safety. There are some programs that allow parents to chaperone their kids. To ensure their safety, make sure to always ask about the safety protocol. Always read the waiver or parental consent before signing it.
Outdoor education programs are available in all levels beginning in preschool, but they?re more frequent in infants and primary school. Even just playing simple kids games in your backyard can also be considered as outdoor education. Let your kids explore and discover on their own. Learning comes naturally.
You can browse our ActiveActivities Directory to learn more about outdoor education and other kids activities ideas.
Get your kids to delve into the mysteries of nature through outdoor education!
Articles related to your search: