YOUR CHILD AND THEIR CREATIVE DRAWING JOURNEY....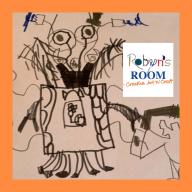 " I DON'T WANT TO DRAW !" Have you ever heard your child declare, "I hate drawing" or "I can't draw" and then that is it, they don't pick up a pencil again. It is often those children who claim they cannot or don't like drawing, have not met their own or someone else's expectations. This may cause drawing scars, leading to disappointment, frustration, anxiety, and doubt in their own creative worth. As you continue to support and nurture your child, the following tips may help & heal, returning them to happy drawers once more.
CREATIVE DRAWING TIP NO.1
Start with no imposed limits!
Try and offer a variety of paper sizes
Children should be free to choose their canvas so they can take their ideas to the greatest heights or to the smallest corner of the page.
MORE THAN A SCRIBBLE !
In the stages of learning to draw, children may become interested in the motion & actions of their drawing hand. They then focus on the markings they've created more than the concept of producing images in an initial drawing idea. This naturally develops with age, communication levels & skills.
CREATIVE DRAWING TIP NO.2
Allow for experimenting and discovery.
Provide a variety & combination of tools for your child to choose from, pencils, markers, crayons & chalk etc.
They all feel different to use and each create a unique density of line. There is something new to discover at every tip & there is usually a lot more going on than a mere 'scribble' on the page!
IT IS THEIR IDEA!!
Paper has been selected and a variety of drawing tools are at hand .... Let the drawing begin!!
Often, when children begin to draw, they may have an instant idea and dive right in. Others may take their time or turn to you for inspiration.
CREATIVE DRAWING TIP NO.3
Stimulate their imagination but try to avoid imposing any underlying expectations on their drawing skills.
Your prompts should remain open - ended.
Provide the seeds for growth, with suggestions like: "What did you see on our walk?"
"What did you have for dinner last night?" "What would you wish for?"
Children feel more empowered and value their creative worth, if they genuinely believe their drawing has evolved from their own ideas.
IT BEGINS !
The light bulb flashes & the drawing begins !
Children's capacity to imagine develops with communication skills. Their ideas can stem from a prompt, an experience, a picture, or story .
Whilst expressing their imagination, children become focused on reproducing their ideas as THEY SEE THEM and not as you see them !
CREATIVE DRAWING TIP NO.4
Step away from their drawing & remove the judge & jury.
Avoid imposing your ideas on their drawing.
Allow your child to explore their own ideas in their own way !!
TAKING SHAPE!
As children become engaged in their drawings, their ideas take shape and images leap out of the page. The final "masterpiece" is proudly presented to you, in anticipation of your praise. Some of the images in their drawing are obvious & easily recognisable. Others well...you tilt your head at the page as you try and decipher what you see.
CREATIVE DRAWING TIP NO.5
As you discuss your child's drawing, offer open-ended comments.
Avoid the 'empty praising' such as "That's good!" Nice dog? "
Try responding with positive but neutral declarations. "That looks interesting, what's happening?" "Tell me about those squiggly bits."
These types of prompts may provide opportunities for your child to openly share the details of their drawing, without you imposing your thoughts on what you see, or don't see......You'll be surprised by their answers !!!!
"I'M SURE ! "
How often does your child present their drawings with proud affirmation, loudly declaring "I've finished !" ? It is your responses at this pivotal moment, that can make or break your child's drawing confidence & enthusiasm. It may seem obvious to you that there is a big space in the top corner. You think that dog look- a-like thing down over there needs a tail and the tree is missing leaves & a bird's nest, so we then usually reply with " Are you sure?"- A hopeful question in trying to get your child to see what you see ! This may cast doubt & uncertainty and can knock any drawing esteem right off the paper !
CREATIVE DRAWING TIP NO.6
Once your child has finished their drawing and you have allowed them to share what they have drawn from their perspective, accept it for what it is.
Your child believes this drawing at this time; IS finished & it does not need anything added that YOU believe is missing!
Your child will feel empowered if their decisions & choices are respected.
It's their drawing and not yours & most of the time, they ARE sure they've drawn all that they wanted to!
GOOD LUCK, HAPPY FUN CREATIVE DRAWING ....
Articles related to your search: